YouTube To Release A Whopping 50 Original Shows In 2019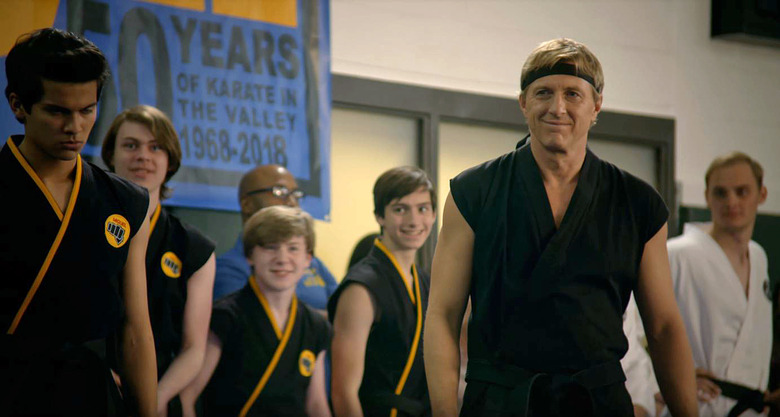 The streaming battle continues to heat up, with Netflix continuously churning out more content each month, and Amazon and Hulu trailing not far behind. But YouTube, which was catapulted into the competition thanks to the acclaimed debut of Cobra Kai this year, is about to throw down the gauntlet for 2019.
YouTube is kicking its original content game into high gear, with plans to release a whopping 50 original TV shows in 2019.
YouTube Premium, the website's advertising-free premium service, will release 50 TV shows in 2019, YouTube's head of originals EMEA, Luke Hyams, announced at the Edinburgh TV Festival, according to The Hollywood Reporter.
"We've had more than 65 shows and movies since it launched at the end of 2016, and we've got 50 shows releasing in 2019," he said, adding that his team is currently in the process of programming YouTube's upcoming slate.
Hyams teased several upcoming YouTube shows at the Edinburgh festival, including the sci-fi drama Origin, from The Crown producers and starring Tom Felton and Natalia Tena as "strangers stranded on a spacecraft bound for a distant planet." The rest of the known slate is a mix of reality programming that YouTube is known for and some scripted dramas and comedies. That includes the U.K.-produced reality adventure series The Sidemen Show, Kirsten Dunst's dark comedy On Becoming God in Central Florida, a Robert Downey Jr.-narrated docuseries on artificial intelligence, and Will Smith: The Jump, in which the Suicide Squad star celebrates his 50th birthday by bungee jumping over the Grand Canyon for charity.
YouTube Premium seems to be walking a balancing act between the creator-driven reality content that has become synonymous with the website and the more prestigious scripted titles, which imitate the kinds of offerings available at traditional networks. Hyams confirmed as much, saying:
"As far as our shopping list goes, on the scripted side we're looking for personality-driven, authored pieces with the potential for international appeal...shows with central characters, following one person's narrative...
For comedy, we're after half-hours. More serialized half-hours than traditional sitcoms. Not so much stand-ups or specials, but maybe that will change."
But even for traditional networks, 50 shows is a lot. While the era of Peak TV has resulted in more hours of original content than ever, the big four US broadcasters—ABC, CBS, NBC, and Fox— combined greenlight fewer scripted shows (39 shows in 2017-2018) than YouTube's 2019 slate.
Maybe YouTube is playing the odds — the more shows, the better bet that one of them will stick. But I wonder if the website can replicate the critical and commercial success of Cobra Kai, or if that was just a fluke. We shall see.