Exploring The Sights And Fun-Filled Easter Eggs Of 'Toy Story' Land At Disney's Hollywood Studios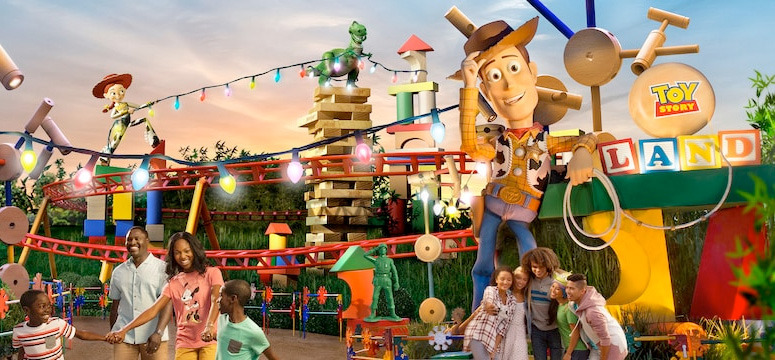 Summer is almost over and for Disney fans, it's been an eventful theme park season. While California has been caught up in the pageantry of Pixar Pier's opening at Disneyland Resort, Florida has been having an "Incredible Summer" at Walt Disney World. The bigger ongoing gala at Disney World, however, has been the opening summer of Toy Story Land, a brand new area of the park at Disney's Hollywood Studios.
Themed to Pixar's beloved animated films, Toy Story Land is merely the first stage of revitalization for Hollywood Studios, which will also serve as the East Coast outpost for Star Wars: Galaxy's Edge, the new land set to open next year on both sides of the U.S. There's even a seamlessly connected Star Wars hotel on the way.
As the poet and philosopher Henry David Thoreau once wrote, "The unexamined theme park is not worth visiting." That may or may not be an extreme bit of paraphrasing, but Toy Story Land is chock-full of Easter eggs; it even adds a few new wrinkles to movie continuity by fleshing out character origins and adding new in-universe elements to the mythos. If you haven't made it down to Florida yet but you want to plan a trip or just take a vicarious visit to Toy Story Land, then get ready to shrink down to the size of the Green Army Men, because we're about to enter Andy's backyard from the Toy Story movies. Here's your end-of-summer photo tour of Disney World's Toy Story Land.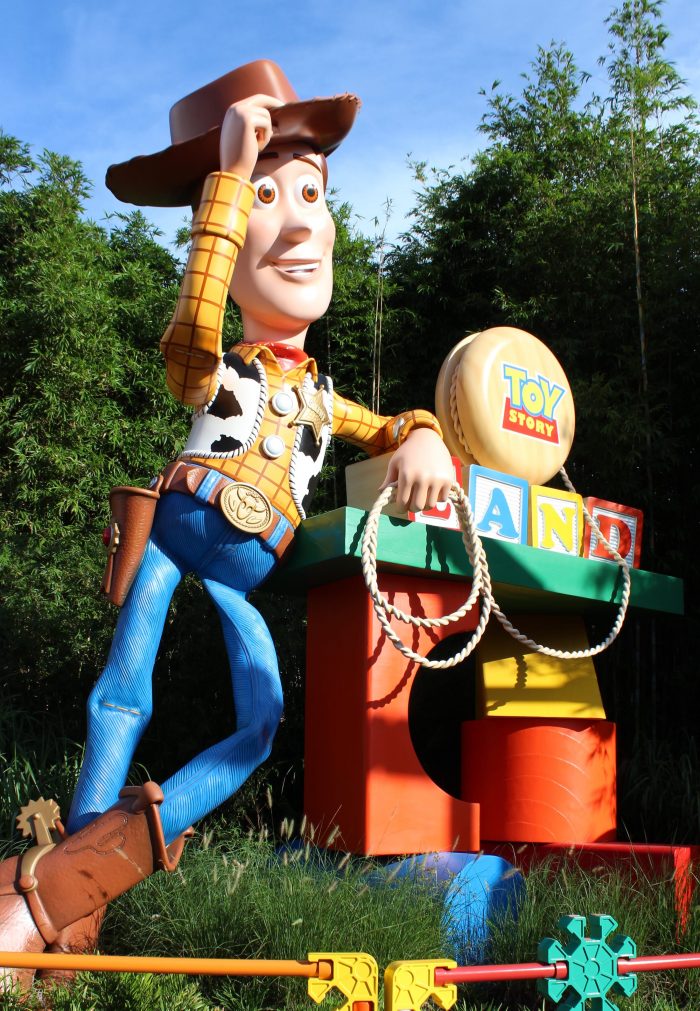 At the entrance to Toy Story Land, a 20-foot version of Sheriff Woody Pride welcomes guests into Andy's backyard world of adventure. To hammer home the new sense of scale for guests, there are massive shoe prints on the ground, a reminder that humans would tower over them like giants if there were any around. (There aren't, which emboldens the toys to come to life as all toys do when no one's looking).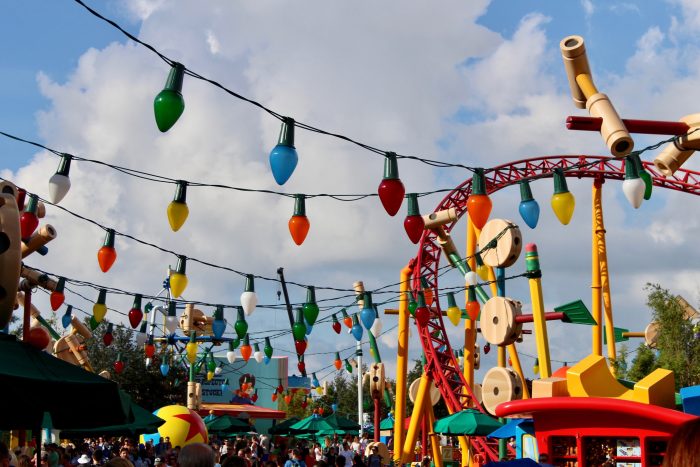 Strung up through Andy's backyard is a canopy of Christmas lights that guests pass under on their way to attractions. Toy Story Land's three Fastpass rides are Slinky Dog Dash, Alien Swirling Saucers, and the newly repurposed Toy Story Mania.
Slinky Dog Dash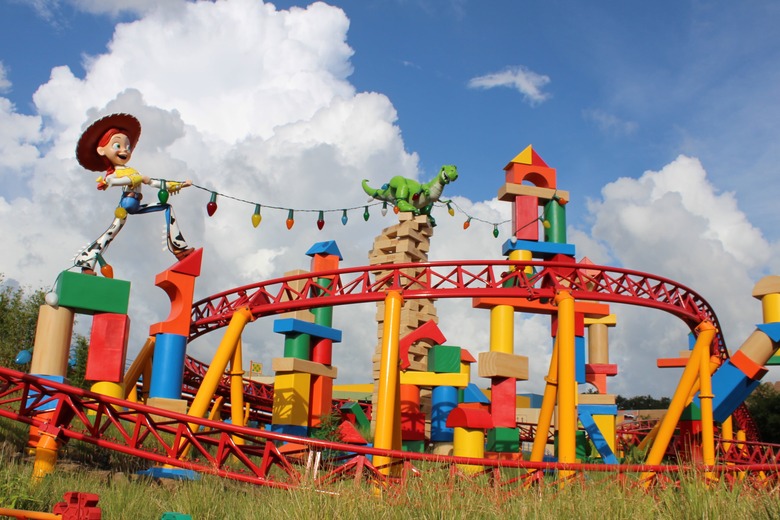 The visual centerpiece of Toy Story Land is the colorful architecture of the Slinky Dog Dash coaster track.
The green dinosaur Rex stands perched atop a Jenga tower in the middle of the track. At the start of the ride, you will pass Rex's toy box. Keep your eyes peeled for his price sticker, which reveals that Rex was, in fact, bought from Al's Toy Barn. In Toy Story 2, Barbie led a Hot Wheels tour of this store's aisles. It's the place owned by Al McWiggin, the nefarious toy collector voiced by Wayne Knight who kidnapped Woody from a garage sale.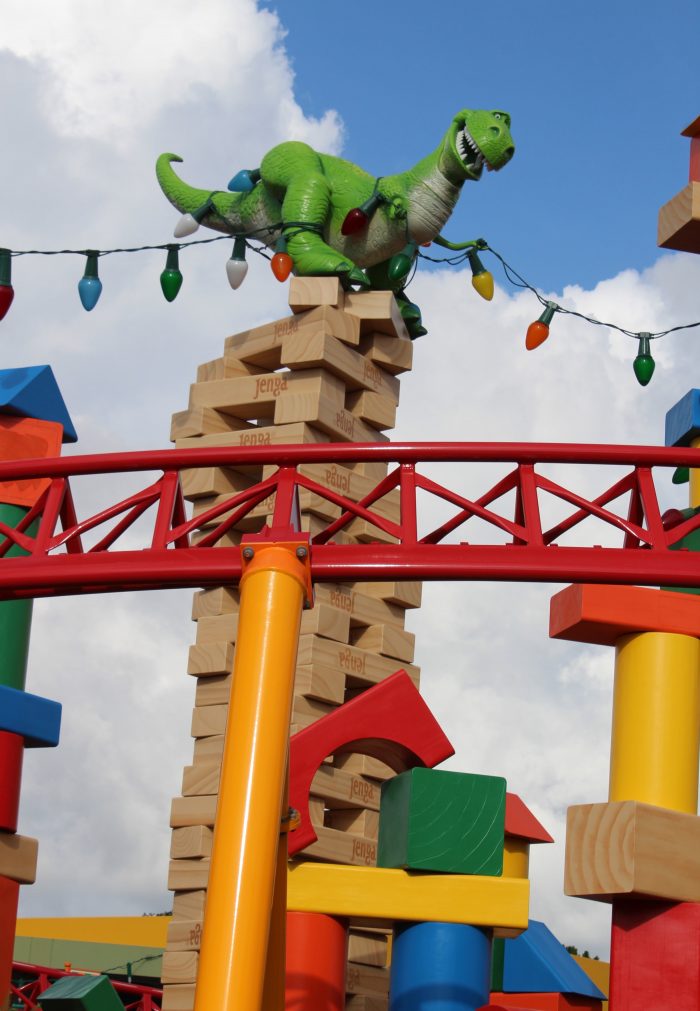 On a rescue mission to free Woody, Rex retrieved a strategy guide from Al's Toy Barn for the "Buzz Lightyear: Attack on Zurg" video game. However, it's a new bit of information that Rex was actually bought from the same store. The sticker shows that he was sold for $19.95—the same year the original Toy Story movie changed the game for feature-length animated films.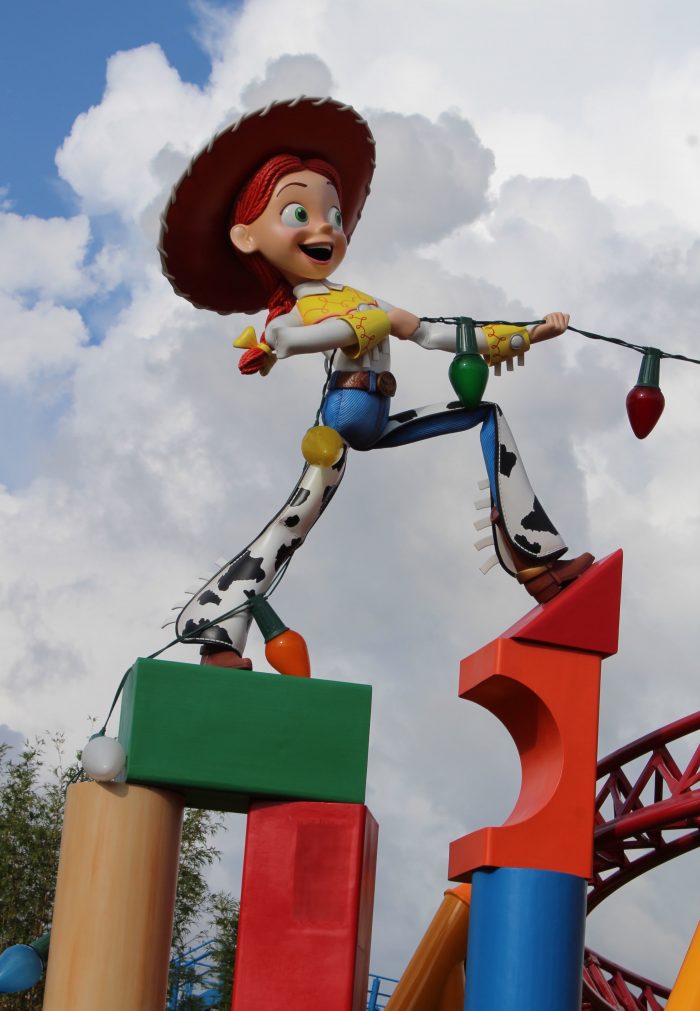 Jessie the Yodeling Cowgirl is busy stringing more Christmas lights up over the coaster track. You'll see the Slinky Dog Dash ride vehicle whooshing past her from time to time. The backstory for the track is that it's a "Mega Coaster Play Kit" that Andy customized. Slinky Dog was not part of the kit but rather part of Andy's elaborate customization—which is detailed in a wall of crudely drawn crayon schematics inside the ride.
Of note on the ride's stand-by entrance sign is the name on back, showing that it is the collar tag from Andy's pet dachshund, Buster. The Elm Street address below his name (not pictured) situates the ride within the Toy Story 2 time frame since that's when Andy lived on Elm Street.
After you've boarded Slinky Dog's elongated body and taken it for a spin on the coaster track, you'll be treated to the crooning of Wheezy the Penguin. Wheezy's Sinatra-esque rendition of "You've Got a Friend in Me" comes at the end of the ride.
The first & only Wheezy Audio-Animatronics figure is joining the fun at #ToyStoryLand at Walt Disney World Resort! https://t.co/GgMRsf1aXT pic.twitter.com/MJucRtxlwE

— Disney Parks (@DisneyParks) May 2, 2018
As it turns out, Wheezy was bought from Al's Toy Barn, too. This bit of backstory may explain why Wheezy used to always, well, wheeze, since Al would be just the type to sell a repackaged toy with a defective squeaker. Eagle-eyed guests riding Slinky Dog Dash may notice that Wheezy's head is drawing shade from a book with the title Partly Cloudy. This is an homage to the Pixar short film of the same name.
Alien Swirling Saucers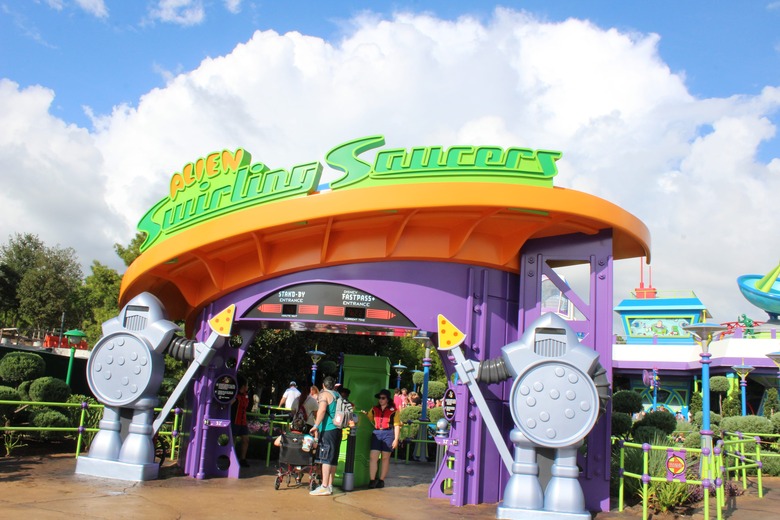 The Alien Swirling Saucers ride is said to be a toy that Andy saved up Pizza Planet tickets to win. Like the Mega Coaster Playkit that he retrofitted into Slinky Dog Dash, this toy marks a new addition to Andy's collection beyond what we saw in the movies. Posted like a sentry near the entrance to Alien Swirling Saucers is a 14-foot Buzz Lightyear, who stands arms akimbo, welcoming riders.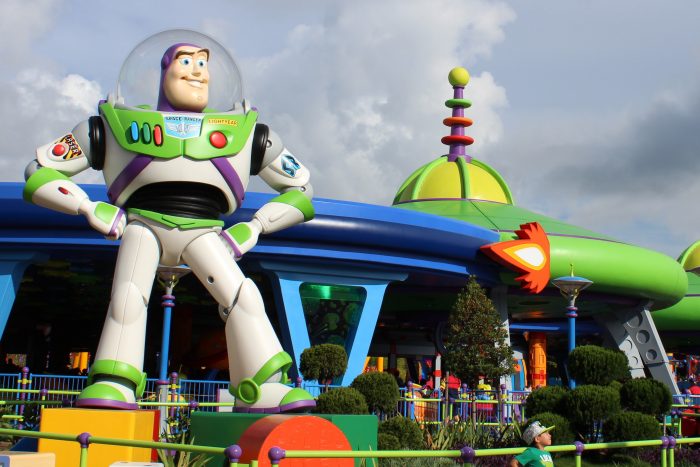 While Buzz stands triumphantly unboxed outside the ride, you'll see his empty toy box on top of one of the queue buildings after you enter the line. The ride itself entails boarding a toy rocket towed by one of the Little Green Men from the claw crane game at Pizza Planet in Toy Story.
The famous "Claw" that the Little Green Men regarded with religious awe can be seen dangling from the ceiling inside the ride. It has already grabbed one of the Little Green Men and is lifting him up out of the game. He has been chosen to go on to a better place. "The Claw chooses who will go and who will stay."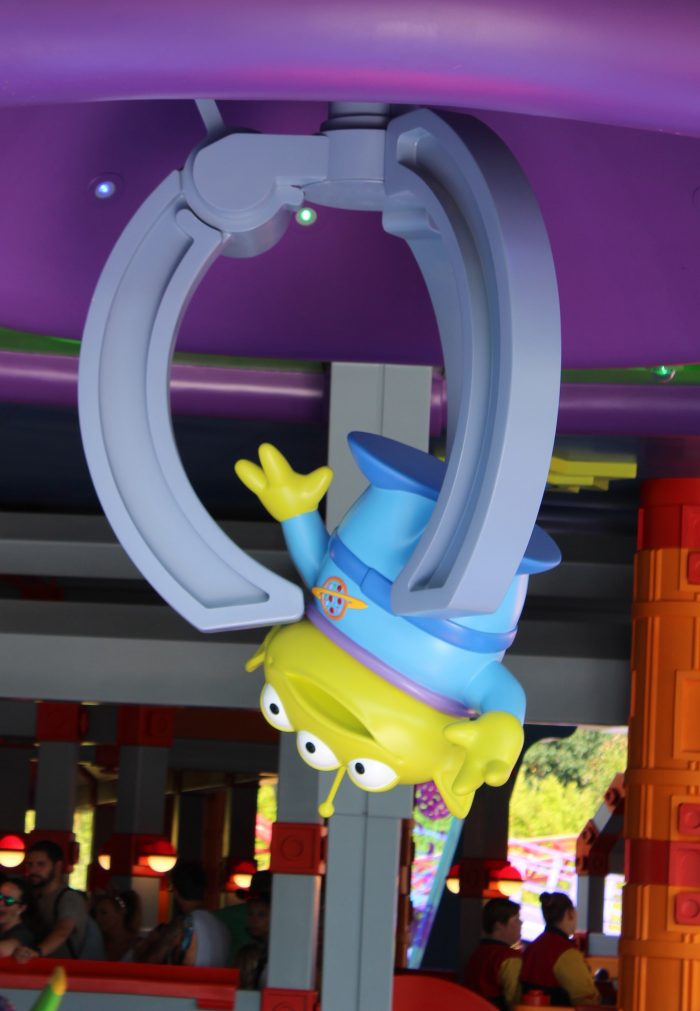 Once your ride vehicle gets going, it flits around like a vessel in a state of intergalactic emergency. Though it's located in a different park at the same resort, Alien Swirling Saucers shares cohesive theming with Buzz Lightyear's Space Ranger Spin, its sister attraction in Tomorrowland at the Magic Kingdom.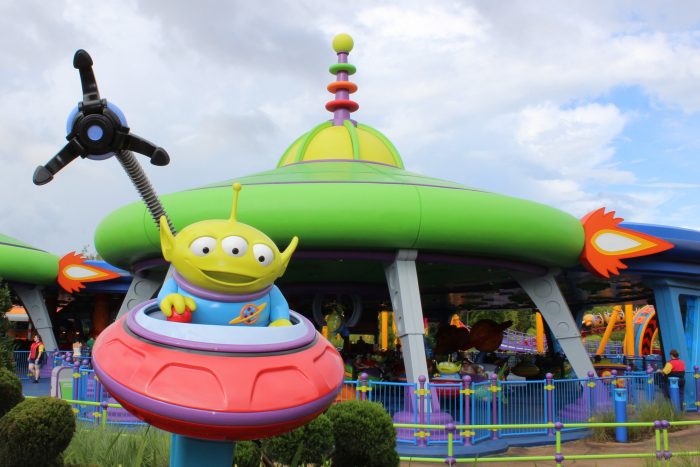 Within the story of the ride, it is conceivable that Space Ranger Spin vehicles have been flying overhead, making their entry and exit from Earth, maybe dropping things into Andy's backyard. So in the Alien Swirling Saucers queue, you'll see a big blue astro blaster like the kind guests use to shoot laser beams at targets in Buzz Lightyear's Space Ranger Spin.
Toy Story Mania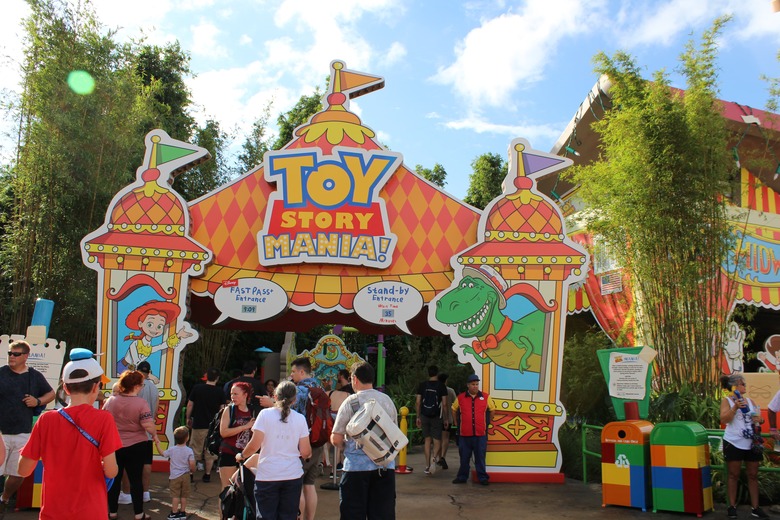 Toy Story Midway Mania was an existing ride at Disney's Hollywood Studios that has since been updated and integrated into Toy Story Land. The popular 4-D shooting game has added a third vehicle track, increasing its ride capacity, and its new name drops the "midway" from the title so that — like its counterpart in other Disney resorts — the attraction is now known simply as Toy Story Mania.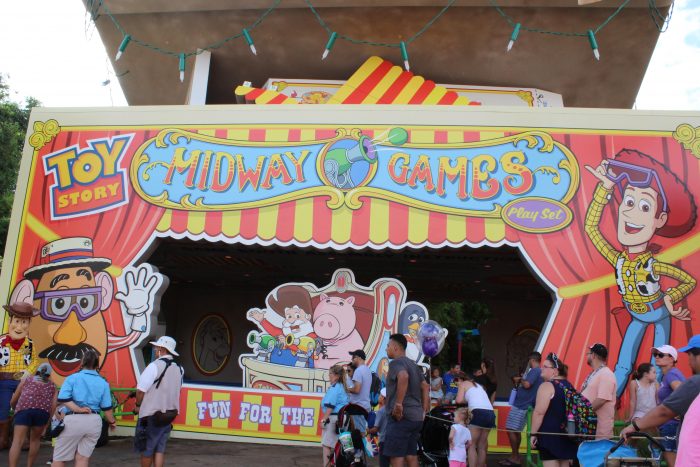 Outside, the ride has a new tent-like, carnival game box entrance while inside, the queue has added toy boxes for Lenny the Binoculars and Chuckles the Clown.
This week, two new characters were unveiled in the Toy Story Mania! queue at Disney's Hollywood Studios! https://t.co/H14sgZlq31 pic.twitter.com/OOxRgJ81Pe

— Disney Parks (@DisneyParks) April 16, 2018
Character Greetings
On any given day, you're liable to see some characters hanging out and roving about in Toy Story Land. Woody, Jessie, and Buzz Lightyear are there greeting guests on a regular basis. Sarge and the Green Army Men also provide street entertainment.
Alas, there have been no sightings as of yet of the Toy Story 3 villain Lots-o'-Huggin' Bear, but you never know. Maybe one day he'll come waddling into the land—or better yet, riding into it on Woody's horse Bullseye (who also seems to be missing as a character greeting, even though he, like Lotso, has appeared at other Disney parks.)
Unsung Details
We've hit the major landmarks now but as is the case with any theme park venture, it's the unsung details that really give Toy Story Land that added layer of immersiveness.
At Woody's Lunch Box, the land's sole Quick Service restaurant, the animal-sized animal crackers above the pickup window are a neat detail in and of themselves, but they're also shaped in the very same image as the puppet critters who came prancing in when Stinky Pete fell down the well on an old black-and-white episode of Woody's Roundup in Toy Story 2. The base of the condiment stand at Woody's Lunch Box is a row of alphabet blocks.
Toy Story Land is an environment where plastic Green Army Men and Game of Cootie bugs are ubiquitously positioned in random spots, so that if you look up, down, or around, you're sure to spot one. Colored building blocks are stacked everywhere, while crayon boxes large enough to hold people sit in patches of overgrown grass behind railings—heightening the feeling of being a toy-sized adventurer on an exploratory mission in an unmowed or weedy backyard.
Even the restrooms are painstakingly detailed. Scrabble tiles actually spell out the "Restrooms" sign; the letter "W," worth four points, serves as the backboard for a water fountain.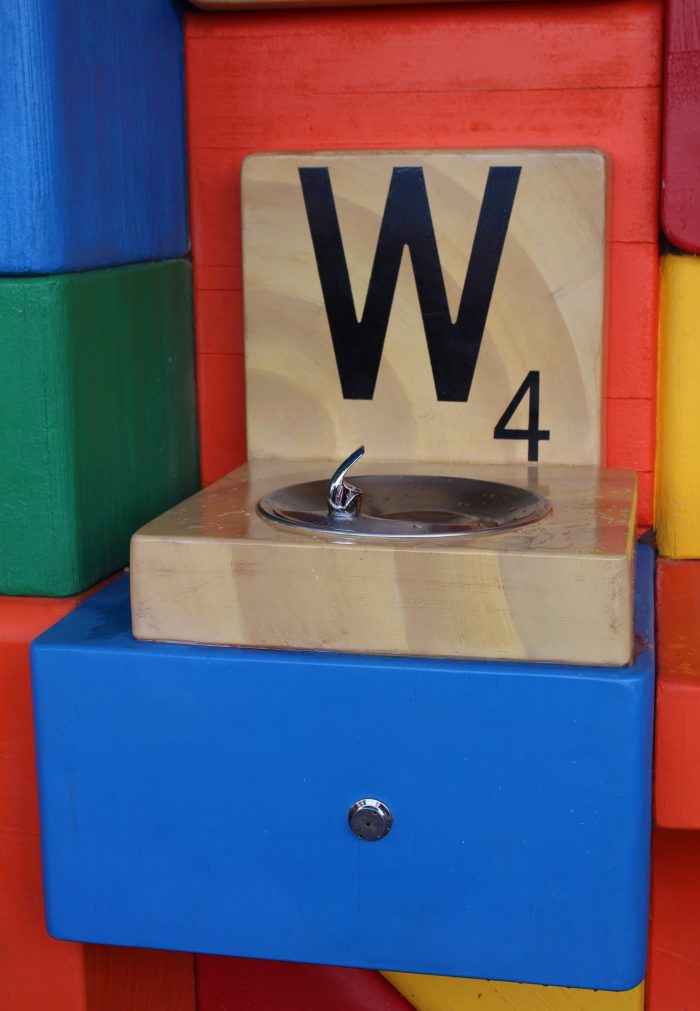 Over a construction wall, in the distance, you can see the scaffolding of structures that will make up the future Star Wars: Galaxy's Edge. All in all, Toy Story Land makes for a pleasant diversion and is well worth a trip to Disney's Hollywood Studios, even before the new land themed to Star Wars joins it next year and makes Hollywood Studios the newest must-visit park for both theme park fanatics and casual fans looking for a highly immersive travel experience.
Special thanks to Mark, Cindy, and Hollie Meyer, the three Walt Disney World Annual Passholders who graciously provided the photos for this feature.