Small-Screen Stream: 'Succession,' 'Dark Tourist,' And Other Great Streaming Shows To Fall Into This Week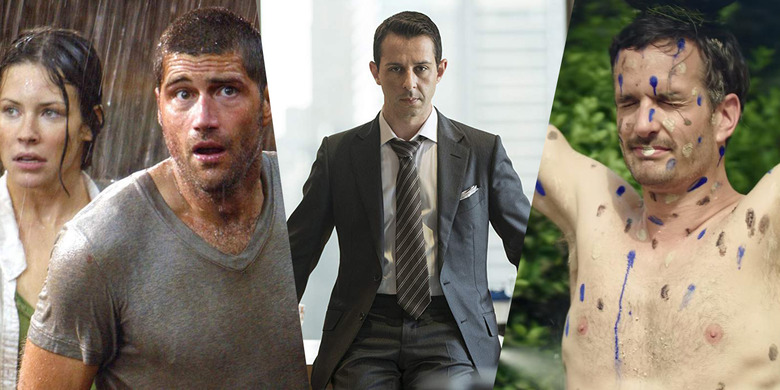 (Welcome to Small-Screen Stream, a feature where we share the best television shows streaming and where you can watch them.)
As promised in my last column, I'm back to a totally random assortment of streaming TV shows this week. There's no real through-line to any of these – with one exception, which you'll see below – as it's really just a sampling of everything I'm watching (and you should be watching) as summer comes to a close. There isn't much in the way of good TV currently airing, so I'm using this down-time to play catch-up on the things I've missed, or to totally zone out to things both mindless and familiar.
It's slim pickings as far as exciting new series go, so I hope I'm able to provide a look at things you might have missed, things worth a revisit, or things to throw on while you clean the house. It's just that kind of week.
Dark Tourist, Season 1
Where To Watch: Netflix
Created By: David Farrier, Paul Horan
Host: David Farrier
If you're like me and use vacations as an excuse to explore the spooky side of foreign locales, you'll absolutely adore Dark Tourist the way I did. The series follows New Zealand journalist David Farrier as he seeks out odd vacation destinations, like the site of the Fukushima nuclear disaster or Jeffrey Dahmer's Wisconsin hometown. Each episode is focused on a different country/region, and is carried by Farrier's insights and humor. The show also has a calming quality, perfect for pre-sleep viewing. It's been my going-to-bed show for the last week, although I go back and re-watch the episodes in the morning to see what I missed as Farrier carried me to sleep. The entire season dropped in July and clocks in at eight 30-minute episodes, perfect for a nice little binge. The finale, when Farrier contacts Charles Manson's long-time (and very supportive) pen pal and visits McKamey Manor – an "extreme" haunted house where people pay to be tortured (for real) – is a highlight.
Lost, Seasons 1-6
Where To Watch: Hulu
Created By: J.J. Abrams, Damon Lindelof
Starring: Matthew Fox, Evangeline Lilly, Terry O'Quinn, Josh Holloway
Castle Rock has been my top priority this summer, and it did a lot to revive the Lost nostalgia that lays dormant in my soul, ready for stoking. I am, to this day, a giant Lost apologist, and have always maintained that the show – a big, brilliant, messy pile of pop art – gets a bad rap for its polarizing final season. I was never bothered by the show's lack of resolution, as I never saw it as that, but rather a fascinating mashing of ideas and beliefs left to interpretation. The TV viewing climate has changed a lot with the rise of prestige dramas and cable subscriptions, and I believe that the reaction to Lost would be somewhat different today. I had a lot of fun revisiting a few choice episodes this last week – namely "The Constant," thanks in part to the latest episode of Castle Rock, for which it shares major DNA – and would pressure anyone with a less than solid vibe for the series to do the same. You might find that you like it more than you think. If anything, it set a solid blueprint for Lindelof's more acclaimed series, The Leftovers.
Haven, Seasons 1-5
Where To Watch: Netflix
Created By: Sam Ernst, Jim Dunn
Starring: Emily Rose, Lucas Bryant, Nicholas Campbell, Eric Balfour
Another series I decided to check out thanks to Castle Rock is this Syfy original, which is also set in the Stephen King universe. (It's based very loosely on his 2005 novel, The Colorado Kid.) While I can't say that, production-wise, it's comparable to either Castle Rock or Lost, there's a lot of fun to be had with this small-town supernatural series. It has a lot of familiar King touchstones, from its Maine setting to its "recurring cursed events in a singular location" premise. The lead actors take a while to feel totally believable, but I had a good time with the first handful of episodes, and it makes for a nice King companion piece, even though the plot of his book is almost totally done away with right out the gate.
Togetherness, Seasons 1-2
Where To Watch: HBO Now
Created By: Jay Duplass, Mark Duplass, Steve Zissis
Starring: Mark Duplass, Melanie Lynskey, Amanda Peet, Steve Zissis
In keeping with my Castle Rock mini-theme, watching the show inspired me to finally finish this HBO comedy. That's thanks entirely to the great Melanie Lynskey, not the plot, which has nothing to do with Stephen King. This small family dramedy is an easy, breezy watch – not sure why I didn't get through it the first time around – with a cadre of actors who deserve way more attention and revere than they get. Lynskey and Mark Duplass play a married coupled on the brink of dissolution, whose lives are interrupted by the presence of his best friend (Steve Zissis) and her sister (Amanda Peet), who move into their house and begin their own affair. The combination of these people sounds weird on paper, but the show is lovely, and real, and painful, and ultimately short-lived; it was canceled after two short seasons. Luckily, it sticks the landing, and is a great showcase for these talented people who deserved more time with such wonderful and alive characters.
Insatiable, Season 1
Where To Watch: Netflix
Created By: Lauren Gussis
Starring: Debby Ryan, Dallas Roberts, Christopher Gorham, Sarah Colonna, Alyssa Milano
I am about to become the only pop culture writer on Earth to recommend Insatiable, but honestly, sometimes trash is fun to expose yourself to, so long as you view it both critically and with a leveled self-awareness. Insatiable came with a lot of baggage, as it's about a fat teenager (played by thin actress Debby Ryan) who loses weight after her jaw is wired shut and uses her new "hot bod" to seek revenge on bullies. It's totally tasteless in every possible way, and almost nothing is handled with care, but it makes for a befuddling, semi-entertaining viewing experience nonetheless. I routinely engage with problematic stuff just to form my own opinion; I share the critical concern with Insatiable, and yet I can't quite bring myself to hate it, in the same way I still love most Ryan Murphy shows, and am mindlessly attuned to anything vestigially camp. Insatiable shares that penchant for ripe, ugly dialogue that I love, although it never quite gets over its less-than-desirable main set-up.
Agatha Christie's Ordeal By Innocence, Season 1
Where To Watch: Amazon Prime
Created By: Agatha Christie, Sarah Phelps
Starring: Bill Nighy, Anthony Boyle, Anna Chancellor, Morven Christie, Alice Eve, Matthew Goode
Based on the Christie novel of the same name, this imported BBC series is a wicked, murderous, familial delight. Though much is changed from the original text, the story retains its iciness. It's about the mysterious murder of a matriarch and the family's attempt at piecing together their loss; wrongful accusations abound, as do love affairs. Typical Agatha Christie, but it's played wonderfully here. The series is only three episodes long, so it's easy to sit through, and is made delightful thanks to a creepy Bill Nighy and a cast of wonderful British actors. Anthony Boyle as the accused son Jack is a standout. The Gothic tone and visuals accentuate what might otherwise feel like a routine murder story.
Succession, Season 1
Where To Watch: HBO Now
Created By: Jesse Armstrong
Starring: Brian Cox, Kiernan Culkin, Sarah Snook, Jeremy Strong, Alan Ruck
I was late to the Succession train, which is a damn shame, because this series is incredible. It's hard not to see shades of the Trumps in the story of this wealthy, business-minded family, who run a giant media conglomerate and who are as dynastic, ego-fueled, and off-color as that other disastrously powerful family tree. There are also echoes of King Lear in Succession, which follows Logan Roy (Brian Cox), the founder of Waystar Royco, and his children, who are stepping up to bat as their father ages out of his controlling role. Naturally, this creates a competitive streak amongst them, one that is both hilarious and darkly twisted. It's a disturbingly American story about power and greed and media control, and the pilot directed to perfection by The Big Short's Adam McKay. It takes a while to rev up, but once it hits its stride mid-season, it's hard to look away. The first season just wrapped, so you can catch up now while the water cooler appeal is still fresh.
Mary Kills People, Seasons 1-2
Where To Watch: Hulu
Created By: Tara Armstrong
Starring: Caroline Dhavernas, Jay Ryan, Richard Short
If you're a huge fan of NBC's beloved Hannibal series like me, you've got to check out Mary Kills People, which features the great Caroline Dhavernas (Alana Bloom on Hannibal) in a starring role. The Canadian series has a stellar premise: Dhavernas plays Dr. Mary Harris, an ER doctor who, on the side, runs a secret assisted suicide side business with her partner, Des (Richard Short). That business is investigated by an undercover cop (played by Jay Ryan, who will soon star as the grown-up Ben Hanscom in It: Chapter Two) who threatens to unravel Mary's work, while she continues to maintain her innocence. Dhavernas is a terrific actress who lends her steely professionalism to the role, while still maintaining a relatable pathos. It's great to see her flourish here, in a series that fully supports her talents as an actress. Although, to be honest, it only makes me yearn to see more Hannibal, but that's a forever mood.
Girls Incarcerated, Season 1
Where To Watch: Netflix
Created By: Nick Rigg, David George, Jordan Hochman
A biting accessory to the comedy series Orange is the New Black, Netflix's Girls Incarcerated offers a more brutal, biting look at life behind bars for young women. This is not an easy series to watch, and I will admit that it make me deeply, extremely sad. But it's mandatory viewing, in my opinion; the sort of series that sends a shiver down your spine and a pang through your heart. It focuses on a group of girls at Madison Juvenile Correctional Facility in Madison, Indiana (which has since been shut down) as they navigate the daily life of an incarcerated youth. Most of the girls are in their mid to late teens, and most come from broken homes, coming up in a system that sets them up for failure and oppression. Though they strive to better themselves, and yearn for more than their present circumstances allow, it's hard to feel too hopeful for any of the young women we meet; that is the heartbreaking power of the series. I'm still haunted by Najwa Pollard, a 16-year-old Madison inhabitant who can't leave the facility because she has no stable family life waiting for her on the other side. Girls Incarcerated is full of stories like hers, all of them depressing, but many tinged with glimmers of hope. It's a hard series to watch, and an even harder one to forget, but there's something beautiful and truthful about the show that makes it feel vital.
Schitt's Creek, Seasons 1-4
Where To Watch: Netflix
Created By: Eugene Levy, Daniel Levy
Starring: Eugene Levy, Catherine O'Hara, Daniel Levy, Annie Murphy, Chris Elliott
Imagine Arrested Development, but Canadian, and that's a good starting comparison for Schitt's Creek. The show is about a video store magnate (Eugene Levy) and his soap actress wife (Catherine O'Hara) who lose their wealth when their business manager fails to pay their taxes. The couple have no choice but to move to the Canadian town of Schitt's Creek, which they bought for their son as a gag gift years earlier. They move into the local motel with their children – son David (played by Levy's real-life son, Daniel, who co-created the show with his father) and daughter Alexis – and, as you'd expect, hijinks ensue. Levy and O'Hara are complete delights as the clueless family foundation, but their kids are the real highlight of the show. It's a familiar premise, yes, but the high caliber of talent breathes a new life into what could otherwise be staid territory. Put Catherine O'Hara in everything, please!