Brendan Fraser Joins DC Universe's 'Doom Patrol' As Robotman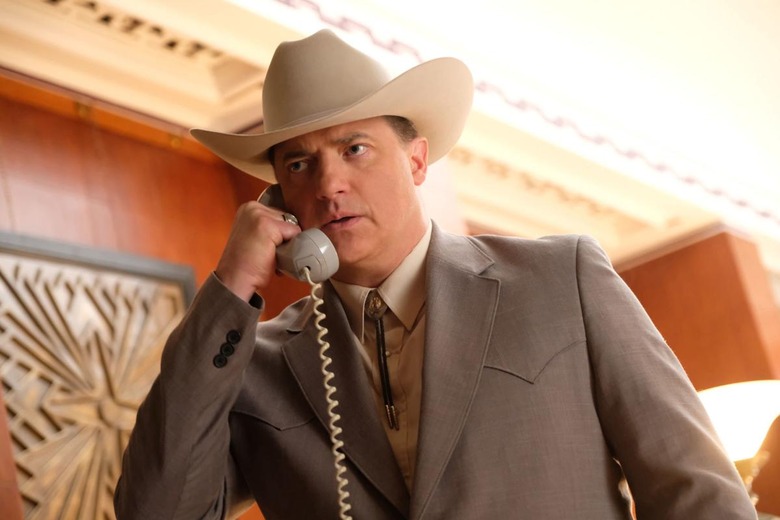 In Brendan Fraser's 26-year career, you'd think the formerly floppy-haired dreamboat would have played a superhero by now. He's swung shirtless through jungles and battled mummies, but now he gets to don the (proverbial) tights and cape to become a real superhero in DC Universe's oddball TV series, Doom Patrol. And with the Fraser-ssance in full swing, it couldn't come soon enough.
The Doom Patrol cast has added Brendan Fraser in the lead role of Robotman, Deadline reports.
Fraser will play the former race car driver Cliff Steele who suffers a horrific accident that renders his body uninhabitable. But miraculously, the mysterious Dr. Niles Caulder saves his brain and places it inside a powerful robot body.
Fraser will provide the voice for Robotman and appear in flashback scenes as Cliff Steele, but the job of the physical performance of the character in full robot gear goes to Riley Shanahan, who will wear a full body costume on camera.
Fraser will not be the first actor to play Robotman in Warner Bros. TV's streaming DC Universe. Jake Michaels has been cast as the character in Titans, which feeds directly into Doom Patrol. Doom Patrol, written by Jeremy Carver and produced by DC TV mastermind Greg Berlanti, is a "reimagining of one of DC's strangest group of outcasts" led by modern-day mad scientist Dr. Niles Caulder/The Chief and called into action by Cyborg (Joivan Wade).
Here's how Doom Patrol is being described:
The Doom Patrol's members each suffered horrible accidents that gave them superhuman abilities — but also left them scarred and disfigured. Traumatized and downtrodden, the team found purpose through The Chief, who brought them together to investigate the weirdest phenomena in existence — and to protect Earth from what they find. Part support group, part Super Hero team, the Doom Patrol is a band of super-powered freaks who fight for a world that wants nothing to do with them. Picking up after the events of TITANS, DOOM PATROL will find these reluctant heroes in a place they never expected to be, called to action by none other than Cyborg, who comes to them with a mission hard to refuse, but with a warning that is hard to ignore: their lives will never, ever be the same.
Diane Guerrero has already been cast as Crazy Jane, and April Bowlby as Elastiwoman, leaving Negative Man as the last to be cast.
Unlike the more well-known characters of Titans, Doom Patrol follows a group of DC's strangest group of outcasts. The team originally consisted of The Chief, Robotman, Elasti-Girl, and Negative Man, and were often compared to Marvel's X-Men, due to the characters' strange appearances and their wheelchair-bound mentor. But their comics were decidedly trippier and weirder, offering writers an experimental playground to test out some of DC Comics' wildest ideas.
There is no set release date yet for Doom Patrol.