James Gunn's Secret Horror Movie Is Opening In November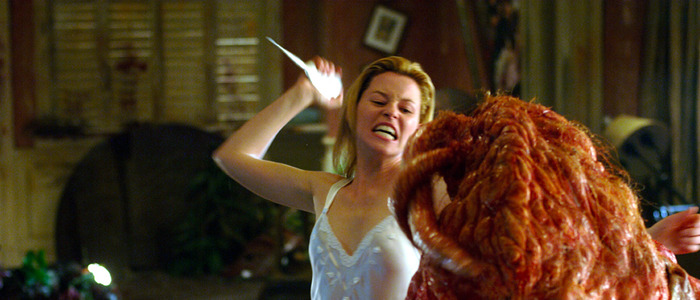 Right before this year's San Diego Comic-Con, James Gunn teased the reveal of a secret horror project. Then all hell broke loose: Gunn was fired from Guardians of the Galaxy Vol. 3 for old, highly inappropriate jokes, and ended up not appearing on SDCC after all. But the Gunn-produced horror movie – whatever it is – is still on track. In fact, Sony will release the movie in November.
James Gunn's time with Disney and Marvel may be at an end (for now at least), but his career is far from over. According to an official release date schedule from Sony (via ScreenRant), Gunn's secret horror project will hit theaters on November 30, 2018. It's worth noting that while everyone (including Sony) is referring to this as "James Gunn's horror project", Gunn isn't the director – he's one of the producers.
Back in 2017, Variety reported that Gunn would produce a horror film for the production company The H Collection, with director David Yarovesky at the helm. Yarovesky is a longtime Gunn collaborator, and also directed the music video Guardians Inferno for Guardians of the Galaxy Vol. 2. Very little was known about the film after its initial announcement, save for the fact that the project would reunite producer Gunn with his Slither star Elizabeth Banks. Gunn also released the following statement:
"Elizabeth and I have been on the same artistic page since we first met when she auditioned for Slither back in 2005. She's since remained one of my best friends in the world, and I've been fighting tooth and nail to work with her again. She's the perfect partner to Yarvo, the H Collective and myself in creating this very special project."
The project remained highly secretive, wrapping up production sometime this year. Last month, Gunn took to social media to reveal that the first official info about the movie would break during SDCC.
Of course, we all know what happened after that. Tasteless tweets from Gunn's past came to light, leading to his firing from Disney and to the cancellation of the SDCC panel. The fate of the mystery horror movie was unclear, but now we officially know it's still hitting theaters this year.
It'll be interesting to see how this all plays out. For one thing, we still don't even know what the movie is, or what it's about. Then there's Gunn's firing. Will the news surrounding Gunn hurt the film, or help it? Despite Disney's firm stance against re-hiring Gunn, there's been a well of support for the filmmaker online. On top of that, a recent report indicated several other studios were actively courting Gunn now that his time at Disney and Marvel has come to an end.
November is fast approaching, so I imagine we'll learn more about this mystery horror movie very soon.