'Hold The Dark' Trailer: 'Green Room' Director Jeremy Saulnier Confronts The Wilderness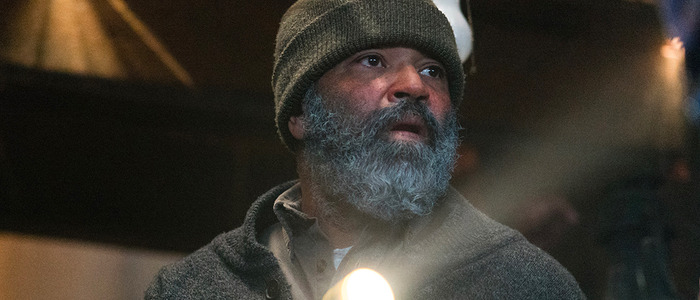 Hold The Dark is the latest from Jeremy Saulnier, director of Blue Ruin and Green Room. And if you know anything about those two movies, you can probably guess that Hold The Dark is going to be intense. The first Hold The Dark trailer confirms that suspicion, teasing a moody, unsettling, disturbing journey into the wilderness, and beyond. Watch the Hold The Dark trailer below.
Hold The Dark Trailer 
Well, holy shit. This looks incredible. Blue Ruin and Green Room are both stunning films, and Hold The Dark looks to be yet another winner from Jeremy Saulnier. Jefferey Wright plays a naturalist and wolf expert who is hired by a woman (Riley Keough) to track down the pack of wolves that took her son. At some point, Keough's soldier husband – played by Alexander Skarsgård – returns home from overseas, and things get very, very tense.
That's the abridged version, at least. It's clear from this trailer that there's a lot more going on here – stuff involving creepy masks, hidden locations, and dark, disturbing secrets.
Hold The Dark is adapted from the novel by William Giraldi, with a script from Macon Blair, an actor who has appeared in all three of Saulnier's films – Murder Party, Blue Ruin and Green Room. "I read Hold the Dark in two sittings and just chewed through it," Blair says. "It really excited me. The book itself was so stunning and compelling—and then simultaneously I was thinking of it as something for Jeremy to direct. It seemed very much in his wheelhouse but at the same time felt like a progression, in terms of scope and themes and size and intensity."
"I'd categorize my previous films as hyper terrestrial," Saulnier says of the film. "They've been so grounded that this sort of forced me into a new realm. I definitely thought of the material as mystical more than supernatural, but there's enough subjectivity with the characters that it could be interpreted one way or another."
Everything about this looks and sounds amazing, and I can't wait to see it. Hold The Dark will premiere at the Toronto International Film Festival in September, before hitting Netflix on September 28, 2018.
Retired naturalist and wolf expert Russell Core (JEFFREY WRIGHT) journeys to the edge of civilization in northern Alaska at the pleading of Medora Slone (RILEY KEOUGH), a young mother whose son was killed by a pack of wolves. As Core attempts to help Medora track down the wolves who took her son, a strange and dangerous relationship develops between the two lonely souls.
But when Medora's husband Vernon (ALEXANDER SKARSGARD) returns home from the Iraq War, the news of his child's death ignites a violent chain of events. As local cop, Donald Marium (JAMES BADGE DALE), races to stop Vernon's vengeful rampage, Core is forced on a perilous odyssey into the heart of darkness.