Sony Developing Christmas Horror Movie From 'A Quiet Place' Producers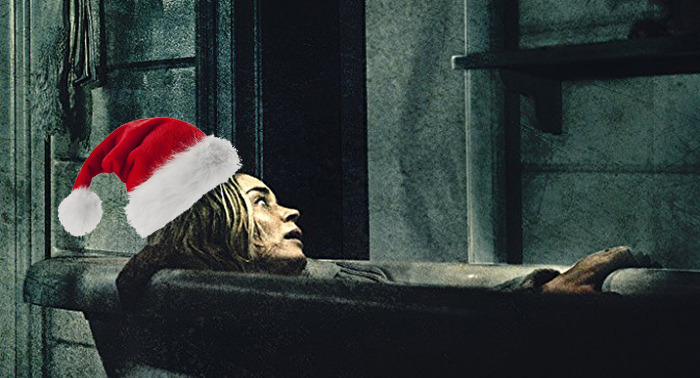 After the massive success of A Quiet Place earlier this year, Sony is likely in a festive mood. The sleeper hit went on to top $300 million at the worldwide box office and now ranks sixth on the all-time list of best-performing horror films. So it's unsurprising that Sony is turning to A Quiet Place producers Platinum Dunes for yet another horror project. But this time they're turning that festive mood into literal holiday festivities.
Deadline reports that Sony has picked up a Christmas horror pitch from Patrick Melton and Marcus Dunstan for Platinum Dunes. The storyline is being kept under wraps, but the untitled holiday movie will reportedly be in the vein of  I Know What You Did Last Summer and Scream. From that description, we can assume it will be a tongue-in-cheek teen slasher set during the holidays — which is an approach befitting the holiday horror genre.
The Christmas horror genre is a bit of an odd duck, ranging from low-budget horror flicks, to creature features, to comedy crossovers. But there has to be a degree of self-deprecation that horror filmmakers take to Christmas, a traditionally family-friendly and heartwarming holiday. Which is why a tongue-in-cheek teen slasher seems ripe for the holiday treatment.
Melton and Dunstan, who pitched the project, are no strangers to the horror genre. They wrote three of the Saw movies and recently finished up on Rate Your Stay at Lionsgate and The Reckoning at Paramount. They also wrote the ABC pilot Monstropolis a few years ago.
A Quiet Place executive producer Aaron Janus is the one who brought the untitled Christmas horror project to Sony from Platinum Dunes. Formed by Michael Bay, Brad Fuller, and Andrew Form in 2001, Platinum Dunes is a production company that has been behind a slew of horror flicks including  The Texas Chainsaw Massacre, The Purge, Friday the 13th, A Nightmare on Elm Street, and Ouija. It has had hits with The Purge and A Quiet Place, the latter of which could help launch the company into household name status.