Kevin Smith's New 'Hit-Girl' Comic Will Pit The 'Kick-Ass' Character Against The Predators Of Hollywood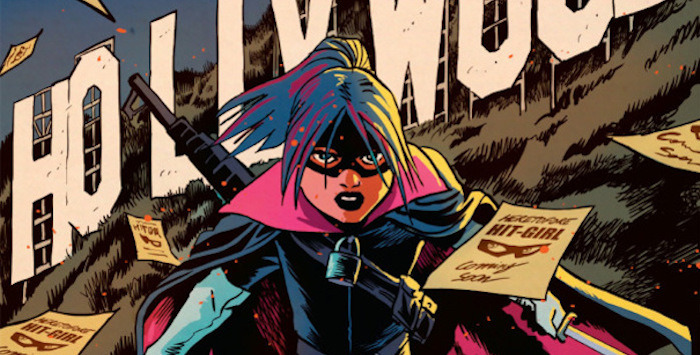 Hollywood predators are about to meet a bloody reckoning from our favorite pint-sized punisher. Hit-Girl makes a lauded return to the comic book pages in the newest Millarworld comic penned by Kevin Smith, aptly titled Hit-Girl: The Golden Rage of Hollywood.
In the upcoming 2019 series, the Kick-Ass breakout character portrayed by Chloe Grace Moretz in the movie adaptations is pitted against the predators of Hollywood to dole out brutal justice. And in a post-Weinstein world, it couldn't come at a better time.
Mark Millar previewed the first look at Hit-Girl: The Golden Rage of Hollywood, which is one of the first major projects Smith worked on while recuperating from his heart attack, according to Deadline. Smith wrote a four-issue miniseries for the Hit-Girl comic book run, which also features contributions by Jeff Lemire and Eduardo Risso. True to the Hollywood setting, each issue will pay tribute to a different era of American cinema. Smith said of his arc:
"I wrote most of The Golden Rage of Hollywood Hit-Girl arc while recuperating after my health scare, so it was Mindy McCready and her bloody thirst for justice who helped me mend my broken heart. Telling tales with Mark's toys was an absolute pleasure, but having Pernille bring it all to life makes this a must-read for me! Pernille's style is like hot cocoa for the eyes and soul, so I'm ecstatic she opted to lend it to our pint-sized, pre-pubescent Punisher!"
Set to launch in January 2019, the title follows the adolescent super-assassin as she lets loose on La La Land, waging war on the Hollywood predators who are now starting to see their comeuppance post-Harvey Weinstein. But this being Millarworld, "Me Too" has to be given a healthy heaping of bloodshed and violence. Smith pens the new adventure with art from Pernille Orum and a cover by Francesco Francavilla.
I just finished my final #HitGirl comic book script for the 4 issue mini-series I'm doing for @mrmarkmillar! Had a blast writing it! After the @JeffLemire story set in Canada, I get to take Hit-Girl to Tinsel Town in a story I'm calling HIT-GIRL: THE GOLDEN RAGE OF HOLLYWOOD! pic.twitter.com/NuGntMJxSU

— KevinSmith (@ThatKevinSmith) May 26, 2018
The new series will feature some familiar faces from the original Kick-Ass and Hit-Girl series by Millar and John Romita Jr., Deadline reports. The first installment of the Golden Rage of Hollywood begins with issue 13, following Hit-Girl's adventures in Rome with Rafael Albuquerque and Rafael Scavone.
Millar currently finds himself occupied heading Millarworld over at Netflix, which recently acquired 17 franchises from the comic book creator, excluding the Kick-Ass and Kingsman properties. Millar is working on both new comics and TV adaptations for the streaming service, but tells Deadline that he is happy to let "brilliant" people like Smith and Lemire take the writing reins.
"Kevin is one of my favorite people in Hollywood," said Millar. "He writes dialogue the way I wish people talked, and his intelligence and humor fits into this world just so perfectly."