'Dora The Explorer' Adds Eva Longoria As Dora's Mom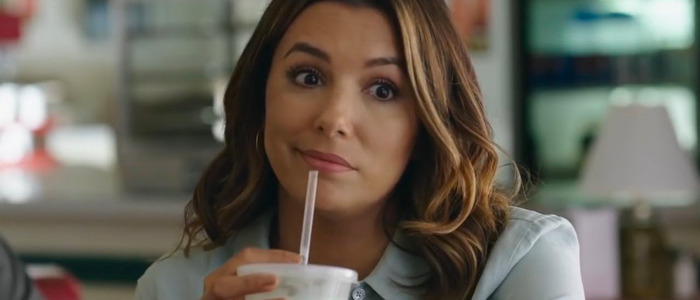 The live-action Dora the Explorer movie, which remains a real thing that is actually happening, just added a new cast member. Eva Longoria will play Dora's mother, Mrs. The Explorer (although technically speaking her character's name is Elena).
In case you forgot, Paramount is producing a live-action Dora the Explorer movie, in which the character is now a teenager, played by Sicario: Day of the Soldado actress Isabela Moner. Whether or not this is a good idea remains to be seen, but for now, the film is moving ahead with James Bobin (The Muppets) at the helm.
The Hollywood Reporter reveals the Dora the Explorer cast has a new addition: Eva Longoria. Longoria will play Dora's mother, Elena. The actress joins a cast that includes Eugenio Derbez (Overboard) as the film's villain; Micke Moreno (Escobar: Paradise Lost), playing Dora's cousin Diego; Nicholas Coombe (Midnight Sun) portraying Randy, a fellow high schooler who develops a crush on Dora; Madeleine Madden (Picnic at Hanging Rock) as Sammy, the class president at Dora's school; Temuera Morrison (Green Lantern) as a character named Powell; and Adriana Barraza (Babel) as Dora's grandma, Abuelita Valerie.Dora the Explorer began as an animated educational show on Nickelodeon, running from 2000 through 2014. Per Wikipedia, the series focused on"Dora, a seven-year-old Latina girl, with a love of embarking on quests related to an activity that she wants to partake of or a place that she wants to go to, accompanied by her talking purple backpack and anthropomorphic monkey companion named Boots. Each episode is based around a series of cyclical events that occur along the way during Dora's travels, along with obstacles that she and Boots are forced to overcome or puzzles that they have to solve (with "assistance" from the viewing audience) relating to riddles, the Spanish language, or counting."
That said, don't expect the live-action movie to hew too close to its animated origins. It's clear that Paramount is aiming for a slightly older audience here, as Dora grows up and heads to high school. Dora the Explorer is currently filming in Australia, and will arrive in theaters on August 2, 2019.
Having spent most of her life exploring the jungle with her parents nothing could prepare Dora for the most dangerous adventure ever – High School. Always the explorer, Dora quickly finds herself leading Boots (her best friend, a monkey), Diego, and a rag tag group of teens on a live-action adventure to save her parents and solve the impossible mystery behind a lost Inca civilization.