'Star Wars Resistance' Will Feature Leia Organa, Will Be Set Six Months Before 'The Force Awakens'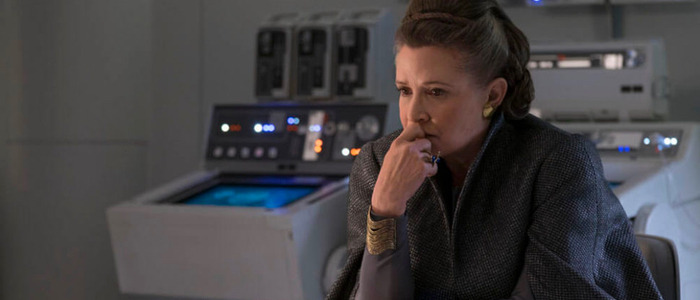 Even after the untimely death of Carrie Fisher, General Leia Organa lives on. Not only will the former princess appear in Star Wars: Episode IX via unused footage from The Force Awakens and The Last Jedi, she'll also be featured as a character in the animated Star Wars Resistance.
The recent Star Wars Resistance trailer name-dropped Leia Organa, but the princess-turned-general won't simply be an off-screen character. She'll have an actual on-screen presence, as confirmed by Rachel Butera, the actress providing Leia's voice:
It's not clear how big a part Leia will have on the show. It's likely she won't be a major character, but will rather appear from time to time. Still, the fact that she's appearing at all is worth noting. It's also more evidence that while Carrie Fisher may be gone, her iconic character will continue to live on in one way or another.
Star Wars Resistance focuses on Kazuda Xiono, "a young pilot recruited by the Resistance whose mission is to spy on the growing threat of the First Order." Along the way, he'll also cross paths with Poe Dameron, voiced by Oscar Isaac. Kazuda Xiono "works as a mechanic and lives with Poe's old friend Yeager, a veteran pilot who operates a starship repair shop run by his crew: Tam, Neeku and their old battered astromech droid, Bucket. Kaz soon finds himself in over his head with his newfound friend BB-8 as he'll have to compete in dangerous sky races, keep his mission a secret from his newfound family, and avoid the danger of the First Order."
We already knew Star Wars Resistance is set sometime before the events of The Force Awakens, but now we might have a more exact timeline. An enterprising Twitter user checked the code on the trailer on StarWars.com and found a synopsis mentioning that the series is set "about six months" before The Force Awakens. Since then, the synopsis buried in the code has been removed.
Haven't seen this anywhere else. If you inspect Resistence page on https://t.co/dDkCx5APXe, it apparently confirms that #StarWarsResistance is going to take place around 6 months before #TheForceAwakens pic.twitter.com/F2NfPTXfhj

— DarthRuiz30 (@Darth_Hardy) August 19, 2018
I'm not sure why the folks behind Star Wars Resistance would want to keep the timeline of the show secret, but perhaps it ties into some larger spoiler that has yet to be revealed.
Star Wars Resistance comes from Dave Filoni, the creator of Star Wars Rebels. "The idea for Star Wars Resistance came out of my interest in World War II aircraft and fighter pilots," Filoni said. "My grandfather was a pilot and my uncle flew and restored planes, so that's been a big influence on me. There's a long history of high-speed racing in Star Wars, and I think we've captured that sense of excitement in an anime-inspired style, which is something the entire team has been wanting to do for a long time."Star Wars Resistance debuts on the Disney Channel on October 7, 2018.