'Mr. Robot' Confirmed To End With Season 4 [Updated]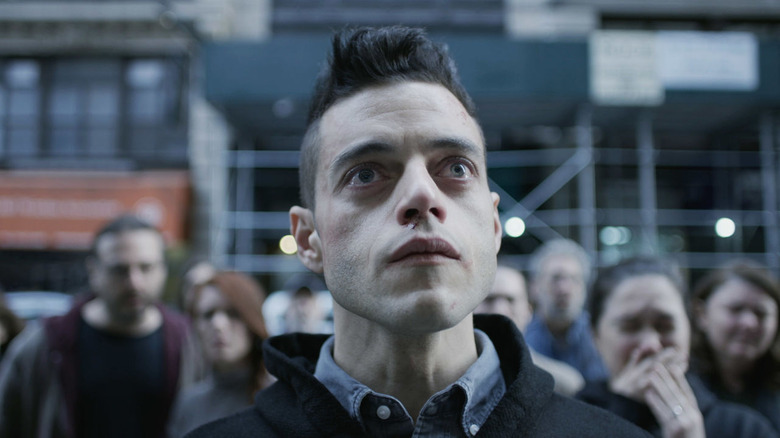 Update: Mr. Robot will end its award-winning run on USA Network after its upcoming fourth season, Variety confirmed. The fourth season is set to air sometime in 2019. Our original story continues below.
***
Mr. Robot may be powering down soon. The acclaimed cyber drama has won USA all kinds of accolades and praise for the past three seasons, but as Sam Esmail's prestige series heads into its fourth season, its stars are suggesting that this will be the end.
Stars Christian Slater and Rami Malek have both suggested that Mr. Robot will be ending after season 4. Slater, who won a Golden Globe for his performance as the titular character and alter ego of Malek's vigilante hacker Elliot Alderson, was the first to suggest in an interview with Collider that he believes the fourth season "will be the last season." He said:
"[Creator Sam Esmail] always said it was going to be somewhere in that zone, and he didn't want to go further than what he could creatively contribute to that storyline. So, I think that season four will be it. I think they're in the writers' room, as we speak, putting it all together, but I have no idea what it's gonna be, or if I'm gonna be floating in and out of scenes. I have no idea, so we'll see what happens."
Malek added to Collider that he "heard rumors, back and forth, to be quite honest." Esmail had previously predicted that Mr. Robot would last four or five seasons, which Malek confirmed.
"He's always said maybe four or five, and that is still pending in his head," Malek said. "I'll tell you that I'm sure the studio would love to see it go for as long as it could, but he's restrained. He's got a story to tell, so I'm all for whatever he wants to do. He's a very brilliant human being."
Mr. Robot was originally pitched as a feature film by Esmail, who eventually took the idea to TV where it debuted to critical acclaim and six Emmy nods in 2015 — launching the career of Malek, who made history as the first non-white actor to win an Emmy for Lead Actor in a Drama in 18 years, and boosting the esteem of USA Network.
But judging by the jaw-dropping season 3 finale, the thrilling series seems to be hurtling toward its end. Esmail has said that because he originally planned the story as a feature film, he knows "where we're going and the ending." While USA has already greenlit Mr. Robot for a fourth season and would probably like to keep its flagship series on for another season, it's also up to Esmail's increasingly busy schedule. Esmail is currently gearing up for his return to feature filmmaking with a spy thriller with his Mr. Robot star Malek, and has a new Amazon Prime series starring Julia Roberts about to hit the web. He's a busy guy and has already delivered three exceptional seasons of Mr. Robot to us. Maybe it is time to shut down.