'Freaks' Trailer Is Loaded With Bloody Eyes, Raging Fires And Bruce Dern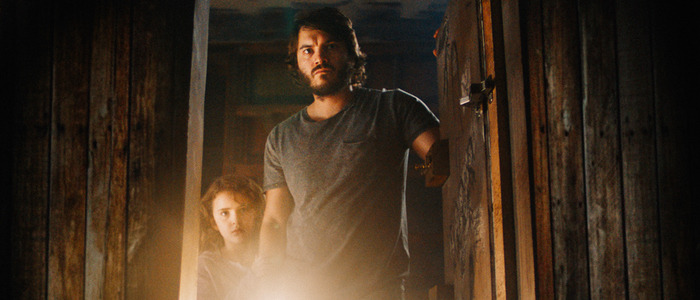 Freaks is making its world premiere at TIFF this year, and this teaser trailer is pretty darn enticing. Definitely not to be confused with the classic Tod Browning film of the same name, this sci-fi thriller seems to be in the same vein as 10 Cloverfield Lane, but on a slightly smaller scale. Watch the Freaks trailer below.
Freaks Trailer
What is Freaks? It's hard to tell from this mysterious teaser, which is big on unsettling imagery and light on plot. The synopsis tells us the film involves a young girl locked up in a house by her father, who warns that there's something dangerous lurking outside. Enter a stranger – with the pretty great name of Mr. Snowcone – who talks the girl into escaping. What could go wrong? Based on this trailer, probably everything.
As the TIFF page for the film explains, Freaks is a "genre-bending psychological sci-fi thriller", and once the young girl escapes her prison/home, she finds a "bizarre, threatening, and mysterious new world beyond her front door after she escapes her father's protective and paranoid control."
Freaks comes from directors Zach Lipovsky, who helmed the kind-of-terrible Leprechaun: Origins, and Adam B. Stein. Both filmmakers are also working together on the live-action Kim Possible movie, so they've certainly had an eclectic career.  The duo originally met as competitors on On The Lot, Steven Spielberg's reality show search for up-and-coming filmmakers, and have been working together ever since.Freaks stars Emile Hirsch, Bruce Dern, Grace Park, Amanda Crew, and newcomer Lexy Kolker. The sci-fi thriller will premiere at the Toronto International Film Festival this September. I imagine after that we'll learn when the film will have a wider release, and likely get a full trailer with more footage as well.
In this inventive and powerful science-fiction thriller, a disturbed father (Emile Hirsch) locks his 7-year-old daughter (Lexy Kolker) in a house, warning her of grave dangers outside. But the mysterious Mr. Snowcone (Bruce Dern) convinces the girl to escape and join him on a quest for family, freedom, and revenge.