'Incredibles 2' Blu-Ray And Digital Release Dates Revealed For Fall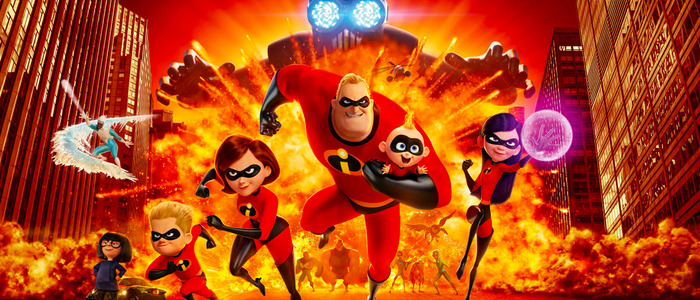 Incredibles 2 will make its way to home video this October and November. The long-awaited Pixar sequel was a summer hit, and soon audiences will be able to enjoy Brad Bird's latest from the comfort of their own homes, free of the sound of children running up and down the movie theater aisle like little monsters. More on the Incredibles 2 Blu-ray below.
If, like me, you were waiting for Incredibles 2 to hit Blu-ray so you could avoid seeing it in a theater full of loud, fidgety children (I don't like kids, folks! Sorry!), here's some good news: the film is arriving on home video in October and November. The Disney fan site Laughing Place has the scoop on the impending release, via a treat bag from the Mickey's Not-So-Scary Halloween Party theme park event. The dates: October 23 for digital, November 6 for Blu-ray.
The #NotSoScary treat bag reveals that Incredibles 2 will be released on digital on October 23 and Blu-Ray on November 6 pic.twitter.com/yO3DHDL66W

— LaughingPlace.com (@laughing_place) August 17, 2018
As this isn't technically the official announcement from Disney, we don't have any info on special features yet, but you can expect the House of Mouse to release those details sooner rather than later.
Fans waited 14 years for Incredibles 2 to arrive, and when it finally did this summer, it did not disappoint. The superhero sequel was a box office hit (earning over $1 billion), and garnered all-around positive reviews. Reviewing for /Film, Josh Spiegel wrote:
Brad Bird knows his characters well enough that the story moves along at a great clip – this is Pixar's longest film at 118 minutes but feels fleet of foot. And the setpieces are another reminder that, Tomorrowland aside, Bird is one of the great action directors of our time. (Remember how great Mission: Impossible – Ghost Protocol was?) Incredibles 2 also benefits from a gorgeous production design; even more than the original, this movie's retro style, from the luxurious house Winston Deavor gifts to the Parrs down to boxes of cereal in the pantry, is lush and top-notch.
Incredibles 2 is in theaters now, where it has made a ton of money.
Everyone's favorite family of superheroes is back in "Incredibles 2" – but this time Helen (voice of Holly Hunter) is in the spotlight, leaving Bob (voice of Craig T. Nelson) at home with Violet (voice of Sarah Vowell) and Dash (voice of Huck Milner) to navigate the day-to-day heroics of "normal" life. It's a tough transistion for everyone, made tougher by the fact that the family is still unaware of baby Jack-Jack's emerging superpowers. When a new villain hatches a brilliant and dangerous plot, the family and Frozone (voice of Samuel L. Jackson) must find a way to work together again—which is easier said than done, even when they're all Incredible.