'Doctor Who' Season 11 Will Have The Show's Most Diverse Slate Of Writers And Directors Yet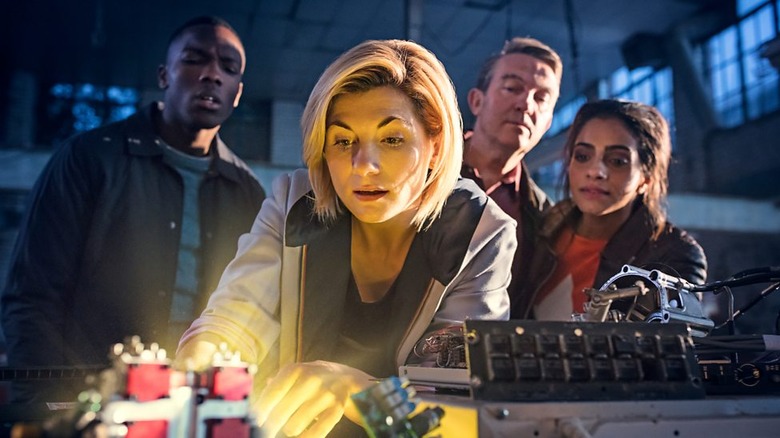 Doctor Who has been on the air for roughly 55 years, but in that half-century of the beloved British sci-fi show's history, it has never had a writer of color on staff. In the year of our lord 2018, that's insane. But thankfully, that's all about to change with its upcoming season, which delivers the most diverse slate of writers and directors Doctor Who has ever had. And with the first female Doctor about to take over the keys to the TARDIS, it's perfect timing.
BBC announced the Doctor Who season 11 directors and writers who will take over behind the camera this fall. And with four women and three people of color in the roster, Doctor Who season 11 is setting up to be the show's most diverse yet — in front of the camera, and behind the camera.
In a public statement, new showrunner Chris Chibnall emphasized how this diverse creative team of longtime Doctor Who lovers will create an even stronger show:
"Hailing from a range of backgrounds, tastes and styles, here's what unites them: they are awesome people as well as brilliant at their job. (It matters!) They love Doctor Who. And they've all worked above and beyond the call of duty in an effort to bring audiences something special, later this year."
It's about time. The series has warded off criticism of its white, male-dominated writers room and directors roster for years, especially under the helm of previous showrunner Steven Moffat. Moffat's era, which lasted from 2011 to 2017, was characterized by a strong misogynistic bent which recycled dishearteningly retrograde female characters whose only purposes on the show seemed to be to flirt with — or die for — the Doctor. I shudder at the prospect of a female Doctor under Moffat — though that would probably have never happened, since the writer was adamantly against casting an actress for the regenerating Time Lord.
Thankfully, Chibnall seems to be putting his money where his mouth his. This upcoming season's slate of writers and directors include Pig-Heart Boy writer Malorie Blackman, playwright Vinay Patel, Joy Wilkinson, Sallie Aprahamian, Mark Tonderai, and Jennifer Perrott.
Here is the full list of writers and directors (via Doctor Who TV):
Writers:
Directors:
Jamie Childs (Block 1 – episodes 1 & 7, Block 5 – episodes 9 & 10)
Mark Tonderai (Block 2 – episodes 2 & 3)
Sallie Aprahamian (Block 3 – episodes 4 & 6)
Jennifer Perrott (Block 4 – episodes 5 & 8)
Doctor Who season 11 returns to the BBC in October 2018.