'The Happytime Murders' Delivers The True Hollywood Story Of 'The Happytime Gang'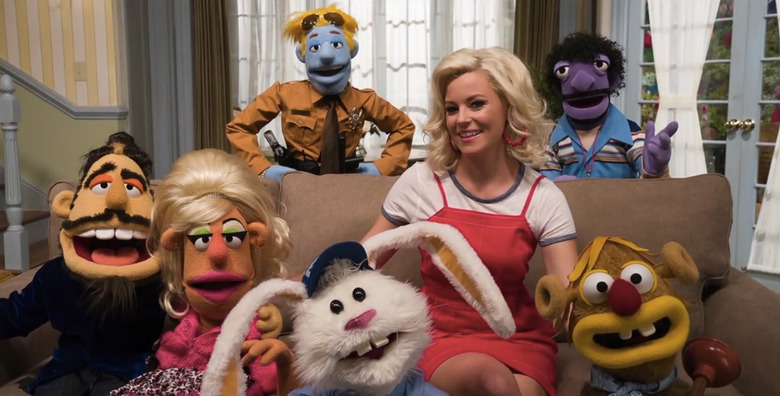 This week sees the release of the R-rated puppet comedy The Happytime Murders, and the marketing campaign is finally making a big push to convince audiences to see the movie. So far, the footage from the actual film has been sparse, with only the initial red band trailer and an updated, shorter version with Twitter reactions giving us a taste of the movie. That has us worried that the movie itself doesn't have the goods, but the original marketing creations have been commendable.
After releasing things like a warning against the dangerous drug syrup and a private investigator infomercial featuring the lead puppet characters, a new video has emerged that gives us the "P True Hollywood Story" of The Happytime Gang, the cast of the beloved television show of the same name that exists in this universe where humans and puppets co-exist. Like many stars who got too famous too fast, it's mostly full of tragedy, but it's the most detailed glimpse at the film's characters we've seen yet.
The Happytime Murders True Hollywood Story
This is the first time that we've gotten a good look at The Happytime Gang in their heyday, before someone started murdering them. What's interesting is that this biographical featurette on the puppet cast and their one human cast member played by Elizabeth Banks leaves a glimmer of hope for recovery for the troubled cast of the show. There are even hints of a reunion on the horizon. Could that come into play when it comes to the motivation of whoever is behind the murder of the cast members of this show?
Another hint as to who might be behind the murders comes from the details provided on the show's police officer character, Larry Shenanigans. Apparently the puppet actor struggled with his identity and tried to get plastic surgery to make himself look more human. Perhaps he succeeded and took things too far.
This is easily the best bit of marketing we've seen from The Happytime Murders yet, but again, the lack of footage from the actual movie itself continues to be a concern. But we'll get to see for ourselves if the movie is worth watching when it hits theaters in a few days.
No Sesame. All Street. The Happytime Murders is a filthy comedy set in the underbelly of Los Angeles where puppets and humans coexist. Two clashing detectives with a shared secret, one human (Melissa McCarthy) and one puppet, are forced to work together again to solve the brutal murders of the former cast of a beloved classic puppet television show.
The Happytime Murders arrives on August 24, 2018. Check out our set visit report right here.