'Crazy Rich Asians' Is A Tribute To The Power Of Single Mothers And Independent Women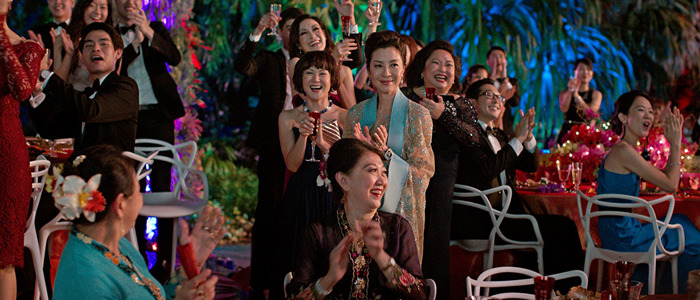 One of the most profound things about Crazy Rich Asians is how it shows Asian and Asian-American people simply living. It sounds basic, but when you consider Hollywood history, much of which erases Asian characters and Asian culture altogether, you know that this is major.  As nearly every advertisement has read: "it's not a movie; it's a movement." But beyond its breezy, romantic, and genuine laugh-out-loud moments, it also shows the power of single women — particularly single women of color. And even more significantly, it highlights the grace, strength, and sheer self-efficacy that embolden so many single mothers and their daughters.
Spoilers for Crazy Rich Asians lie ahead.
A Game of Mahjong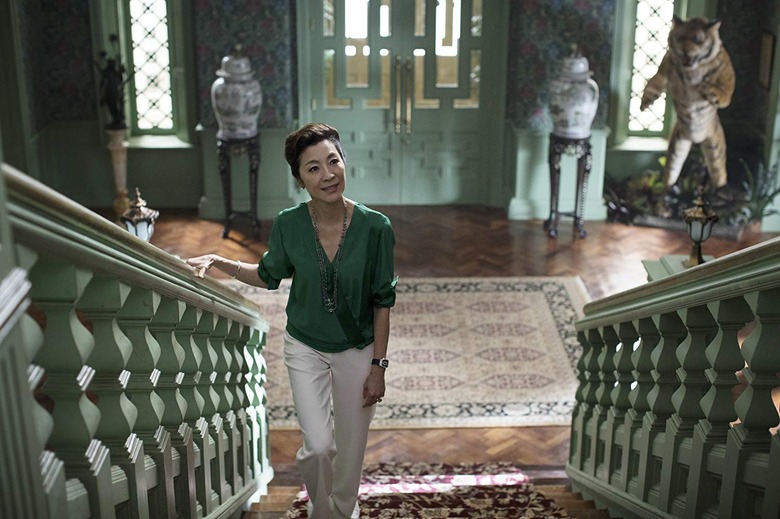 There is a great moment towards the end of Crazy Rich Asians that clenches this theme so eloquently and succinctly. It's when Rachel (Constance Wu) invites her potential mother-in-law Eleanor (Michelle Yeoh) — who's spent much of the film lambasting her for being a simple, working class, American girl who comes from a broken, no-name family — for a game of mahjong. At this point, Rachel is packed and ready to go back to America after enduring one insult after another throughout her time in Singapore to meet her boyfriend Nick's (Henry Goulding) snobby family (and has even broken up with him as a result).
But she's not satisfied with the fact that Eleanor 1) thinks she's successfully pushed Rachel away on her terms and 2) believes that being raised by a single mother means she is beneath her. So, this mahjong game isn't about Rachel trying to win or compete with Eleanor. Rather, it's an opportunity for Rachel to get her point across — she is leaving on her own will and her single mother Kerry (Kheng Hua Tan), who's actually seated across the room at this time, is where she learned to be so self-possessed. In lieu of rare jewels and expensive properties, Rachel's inheritance has been her mother's strength.
It's a strength that comes from Kerry's heartbreaking backstory, which is told in greater detail in author Kevin Kwan's original book (much of which is left out of the film). What we do know about Kerry in the film remains astounding and is so indicative of many immigrants' stories. She is an Asian immigrant who put herself through college in America while working at the same time, and eventually rose to become a top real estate agent in California — all while she raised a child. There are few things more inspiring, more honorable than that, and Rachel proves that in the mahjong scene.
Long story short, Rachel ends up losing the game to Eleanor even after claiming her mother is the one who taught her to play. Before she leaves the table though, Rachel looks Eleanor directly in her eyes and informs the older woman that she broke up with her son — not the other way around — and will walk away from this game and this country with the pride, confidence, and class that her American single mother gave her.
Though it's not about one-upping Eleanor, it's hard to not miss Rachel beaming as she exists the scene, leaving Eleanor's mouth agape. While she's walking away, we see Kerry stand up, give Eleanor a quick once-over, and follow her daughter out the door. What's amazing about this scene is that none of it is in the book — it's one of the film's many unique aspects. In fact, it seemed like director Jon M. Chu set out specifically to amplify the feminism of Kwan's story.
A Cast of Powerful Women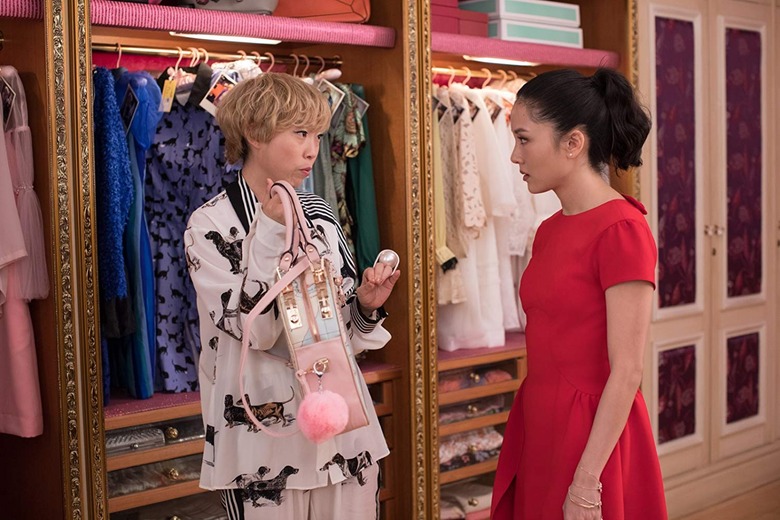 This theme of female empowerment — specifically, empowered single women, without the influence or sometimes even the presence of a male figure — is something that radiates out of every single woman in Crazy Rich Asians. Even Eleanor, who in the book is almost completely irredeemable, carries a regality that far surpasses her decadent wardrobe. In fact, there's a moment in the film where she reveals to Rachel that she gets her strength from struggle — from having to prove, unsuccessfully, to her own mother-in-law that she was good enough for her husband (who's never seen because he's on a business trip throughout the entire film). Eleanor seems at first like she's trying to endear to Rachel's current struggle to impress her, until she says that her own plan to win over her mother-in-law failed miserably — implying that Rachel's will too. There's a hurt Eleanor masks beneath an ironclad exterior to which many women of color, particularly mothers, can relate. It's a determination to keep her family together, a fierce love for her child, a desperation to retain a certain legacy that ignites this otherwise prickly character. 
The same could be said about Astrid (Gemma Chan). She's Nick's cousin and another rich Asian — not crazy, though — who's married to Michael (Pierre Png), a man who's had to work his way up to not even have half the bank account his wife has. She loves him, and they share a son together. But his own inadequacy sends him reeling from their relationship and into another woman's arms. Meanwhile, Astrid has been hiding her lavish shopping sprees and shielding him from her wealth to make him feel better about himself. That is, until she decides that it is not her job to make him feel like a man.
After discovering that he's cheating on her, she grabs all the her lavish presents she's bought for herself and leans in to a power she's dimmed for too long, leaving him and stepping out on her own as a single mother. Michael's weakness compels her to epitomize her own strength as a woman, a mother, and yes, a wealthy Asian — with no apologies. Just think: the film merely graces the tip of her inspiring and distinctly female story that is a bit more elaborated in the book. It's a testament to Chan's performance and understanding of her character that she is able to bring out Astrid's every nuance.
Similarly, Peik Lin (Awkwafina) is a total boss bitch — in the best way possible. Though she may be seen as Rachel's cheerleader and makeover stylist in the film, she owns her sexuality and quick wit in front of everyone — man and woman. The book reveals Peik Lin to be a high-powered real estate guru who knows everything about every piece of property in Singapore, including Nick's family's castle, but in both versions, she is quick to help remind Rachel of her own strength and power that she embodies so naturally. Peik Lin, like Rachel, went to college in the States, but came back to her native home to make her own empire that is encouraged — but notably not financially supported — by her flamboyant family that you see in the film. She's rich, yes, but embraces her affluence with humility, hard work and intelligence mixed with the utmost flair.
There are so many boxes Crazy Rich Asians can check off: it's groundbreaking, endlessly charming, and beautifully and unapologetically Asian. But it is also an amazingly feminist story that highlights the power of the single woman and mother.