'Stranger Things' Season 3 Is Taking Cues From An Unexpected Chevy Chase Comedy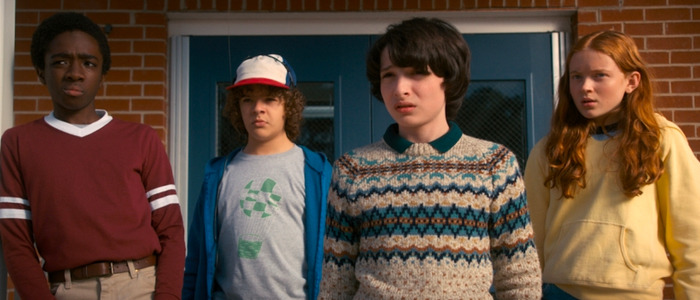 Since the third season of Stranger Things isn't arriving until next summer, fans are still in the dark about where the Netflix original series is heading. While the second season seemed to end happily for our adolescent heroes, a giant shadow monster still loomed over the glitz and glamor of their school dance, setting an ominous tone for what's to come in season 3.
There have been rumblings that Stranger Things 3 will be even darker than past seasons, but that doesn't mean it will lose the lighthearted nature of the the characters at the center of this supernatural story. In fact, series regular David Harbour says part of Stranger Things 3 has been inspired by a certain Chevy Chase movie from the 1980s. But it's probably not one you'd expect.
Speaking with Variety, police chief David Hopper himself, David Harbour, mentioned that Stranger Things 3 has found inspiration, at least partially, from the 1985 comedy Fletch:
"The Duffers are so specific each year with the movies. And 'Fletch' is one movie we get to play around and have some fun with this season, which you wouldn't expect from 'Stranger Things' and you wouldn't expect from the Spielberg universe and you certainly wouldn't expect from a darker season."
For those who might not be familiar with Fletch, the film follows Chevy Chase as a Los Angeles Times reporter named Irwin M. Fletcher who takes undercover reporting to the extreme as he assumes a variety of different identities to land a story. However, he gets caught up in a dangerous game when he's offered a big payoff to kill a millionaire who has been terminally diagnosed with cancer. But an investigation shows that the man isn't sick at all, so he starts to dig deep into the set up. Here's the trailer:
While one might assume that any inspiration from Fletch might be applied to David Harbour's character, let's not forget about a new character being introduced to Stranger Things this season. Jake Busey has a role as Bruce, described as a journalist for The Hawkins Post who has a sick sense of humor and "questionable morals." Perhaps that's where the Fletch inspiration will be found.
So far, all we've seen from Stranger Things 3 is a viral teaser video introducing the new setting of a shopping mall in Hawkins, Indiana. Surely that will be a primary location for this season, but will it become the site of more than wasting time through meandering and commerce? At this point, anything is possible in Hawkins, so we'll just have to be patient for more details.