See How 'Fantastic Four' Would Have Looked In An Axed 'Deadpool 2' Cameo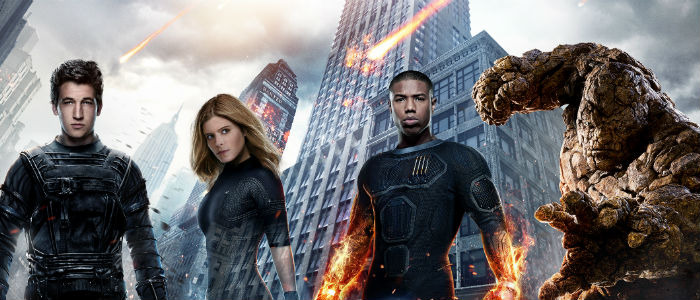 When it comes to Deadpool 2, there were a lot of ideas that never came to fruition for one reason or another. For example, one idea featured Chris Evans reprising his role as Human Torch from 20th Century Fox's 2005 adaptation of Marvel's first family during the X-Force interview process. But it turns out that when Tim Miller was still attached to Deadpool 2, there was some kind of idea involving the entire Fantastic Four team, but not the version featuring Chris Evans.
Concept artist Alexander Lozano has posted some art from the early days of development on Deadpool 2 before director David Leitch took over the production. The art in question involves a new look for each member of the Fantastic Four from the most recent, failed 2015 adaptation from director Josh Trank. Check out the Deadpool 2 Fantastic Four concept art below.
Alexander Lozano's Deadpool 2 Fantastic Four Concept Art
Josh Trank's maligned adaptation of Fantastic Four never put the comic book team in their trademark blue suits, but their cameo in Deadpool 2 would have changed that. The suits looks pretty slick, and I like how Alexander Lozano took a cue from the comics by giving Michael B. Jordan the red suit that Human Torch wore from time to time. But it's the design of The Thing that is finally made perfect, especially with that cigar included. Lozano explained that Tim Miller was very precise when it came to this design specifically:
"He wanted to make sure that I orient myself in the design as close as possible to the comic template to finally give us, the fans, what we always wanted to see on the big screen. It may sound surprising, but the supposedly simple task turned out to be a major challenge after several failed attempts than originally assumed – for the sake of my reputation, I will spare you all those design errors."
Unfortunately, we don't know what the scene involving Fantastic Four would have entailed. It could have been as simple as having them show up to audition for X-Force. Or maybe they would have been one of the many casualties of Deadpool's time travel antics from the credits scenes. Either way, it would surely have been an amusing appearance with plenty of jokes at the team's expense.
As for the future of Fantastic Four on the big screen, it's pretty much a guarantee that Josh Trank's team is dead in the water. And with Disney taking over the rights to Fantastic Four and the rest of the Marvel Comics characters whose rights have resided at  20th Century Fox for years, their future is even more uncertain. But surely Marvel Studios will have a plan for what to do with one of the signature teams from comic history once that deal is finalized.