'Outlaw King' Trailer: Chris Pine Dons A Beard And A Scottish Accent In Netflix Epic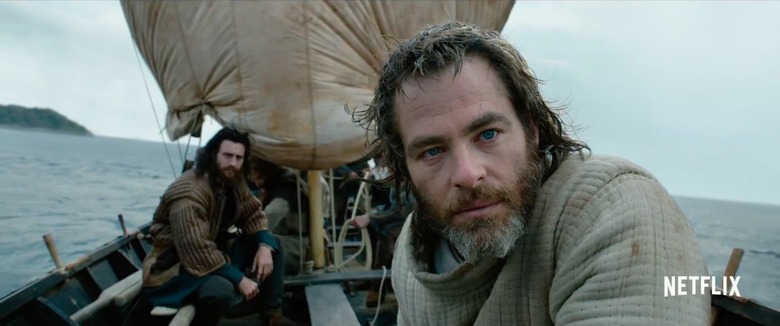 In 2016, the thrilling neo-Western Hell or High Water put Chris Pine on the map as more than just a pretty face. Now the Star Trek and Wonder Woman actor reunites with his Hell or High Water director David Mackenzie in Outlaw King for a role that will require him to once again don facial hair and a distinct accent.
Netflix has released the trailer for Outlaw King, which looks like another stellar outing for the dream team.
Outlaw King Trailer
Chris Pine stars as the real-life Robert the Bruce, a legendary Scottish warrior who led Scotland in the First War of Scottish Independence against England. Outlaw King trailer is awash in grey colors and a miserable atmosphere, painting bleak portrait of Scotland under the occupation of the oppressive English King Edward I. The entire trailer is moody and nearly dialogue-free and it isn't until one minute in that you understand why: Pine's Scottish accent is...not that great. I mean, it's serviceable and not as distracting as say, Kevin Costner in Robin Hood: Prince of Thieves, but it's clear that Pine's accent work is not his best suit. Thankfully, Pine's struggles with his accent have not put a damper on his performance (nor on his status as The Best Chris), which looks perfectly soulful and tormented.
If Outlaw King calls to mind another Scottish epic, you wouldn't be far off — Mel Gibson's Braveheart character William Wallace was the successor to Robert the Bruce in the long war for Scottish independence. But director David Mackenzie brings a homegrown touch to this film. The Scottish director broke into the American market with Hell or High Water, but seems pleased to be going back to his roots, previously stating, "I am so happy to have the opportunity to dig deep into the story of Robert the Bruce and to discover some of the truths that often get obscured by legend."
Outlaw King also stars Lady Macbeth breakout Florence Pugh, as well as Tony Curran, Stephen Dillane, and Billy Howle.
Here is the official synopsis for Outlaw King:
The untold, true story of Robert The Bruce who transformed from defeated nobleman, to reluctant King, to outlaw hero over the course of an extraordinary year. Forced into battle in order to save his family, his people and his country from the oppressive English occupation of medieval Scotland, Robert seizes the Scottish crown and rallies a ragtag group of men to face off against the wrath of the world's strongest army lead by the ferocious King Edward 1 and his volatile son, the Prince of Wales.
Outlaw King premieres on Netflix and opens in select theaters on November 9, 2018.