'Goosebumps 2: Haunted Halloween' Trailer: R.L. Stine's Monsters Are Unleashed In An Action-Packed Trailer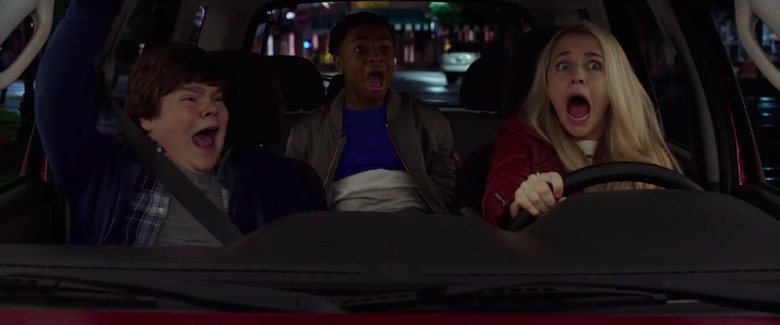 The scariest thing about things that go bump in the night is not being able to see them — are the monsters, ghouls, and demons just a figment of your imagination or are they lurking just behind you, waiting to attack? R.L. Stine's Goosebumps books always perfectly tapped into this pervasive fear while introducing iconic monsters like Slappy the Dummy.
But in the new Goosebumps 2: Haunted Halloween trailer, the mystery disappears as Slappy leads an army of spooky R.L. Stine creatures into the real world to "make Halloween last forever."
Goosebumps 2 Haunted Halloween Trailer
Goosebumps 2: Haunted Halloween never looked so action-packed as it does in this international trailer, which shows our three protagonist kids (Jeremy Ray Taylor, Madison Iseman, and Caleel Harris) facing off against an army of witches, monsters, and tons of glow-y creatures. But most terrifying: a legion of giant gummy bears with killer instincts.
The Goosebumps movies have never tried to be truly scary and it looks like Goosebumps 2: Haunted Halloween is leaning into its silly camp tones, with our trio of kids running about town trying to stop the mayhem, while Ken Jeong wears silly costumes. Jeong's character eventually gets in on the adventure, as the kids frantically plead for help to reverse the enchantment laid by R.L. Stine's book. If they can't stop it, Halloween will last forever! Ironically, Goosebumps 2: Haunted Halloween seems like a great movie for anyone who loves Halloween and actually does want it to last forever. As long as you don't have an overwhelming fear of ventriloquist dolls.
The Goosebumps 2: Haunted Halloween cast is rounded out by Ben O'Brien, Wendi Mclendon-Covey, and Chris Parnell.
Here is the official synopsis for Goosebumps 2: Haunted Halloween:
Slappy is back to wreak more havoc this Halloween in a brand-new comedy adventure based on R.L. Stine's 400-million-selling series of books.
Goosebumps 2: Haunted Halloween is set to arrive in theaters on October 12, 2018.