Here's What A 'Catwoman' Solo Movie Starring Michelle Pfeiffer Could Have Been About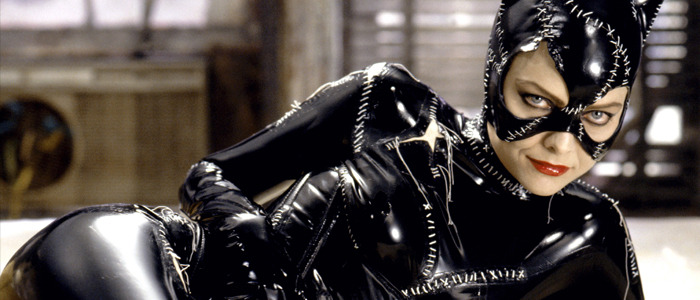 In terms of superhero movies, does it get any better than Michelle Pfeiffer's performance as Selina Kyle/Catwoman in Batman Returns? And do superhero movies get any worse than 2004's Catwoman, the laughable solo film starring Halle Berry in the title role? Those are rhetorical questions, by the way – the answer to both is clearly "no."
In a parallel universe, the Halle Berry version movie never happened. Warner Bros. was considering making a Michelle Pfeiffer Catwoman solo film in the late 1990s, and screenwriter John August (Go, Big Fish, Charlie and the Chocolate Factory) pitched the studio an idea. August just found his old notes for the pitch, and shared them on Twitter to give us a sense of what that movie could have been like.
August recently participated in a Twitter hashtag called #ShareYourRejections, where he revealed that he pitched a Catwoman sequel that would have picked up with Michelle Pfeiffer's iconic version of the character after the events of 1992's Batman Returns.
Even from this brief intro, I already wish we could have seen this movie. We've seen a quick glimpse of Gotham at Halloween in previous movies, but there's still so much potential in that idea alone – not to mention the idea of Selina Kyle toying with a subject during a robbery. But here's where things get really interesting:
What happens when you take Catwoman out of Gotham City and into the "real world"? What does a supposedly normal city look like compared to Gotham? Exploring the distinctions between those different locations could result in some fascinating drama. And not only that, what happens when Catwoman no longer knows she was Catwoman? That's a cool idea that we haven't seen before in this franchise. And then August drops another tantalizing tease:
One more bite. Keep in mind, these were just my own notes for the pitch, thus the many typos (incl "Selena"). These would and should *never* be left behind. #catwoman #ShareYouRejections pic.twitter.com/rCHziIteOK
— John August (@johnaugust) August 17, 2018
The notion of Catwoman pulling off robberies while Selina Kyle doesn't know anything about it could have given Pfeiffer a lot to chew on, and the creation of Lake City's own superhero, someone named Victory, sounds a little like August taking a page out of Marvel Comics' playbook. There are some shades of War Machine/The Iron Patriot in there, and it's also a similar theme of escalation that Christopher Nolan would later explore in his Dark Knight trilogy years later.
Oh well. We'll just have to add John August's Catwoman to the ever-growing pile of "what if" superhero films that we'll never have the chance to see.