'The Oath' Teaser: A Comedy About Those Terrible Political Conversations With Family At Thanksgiving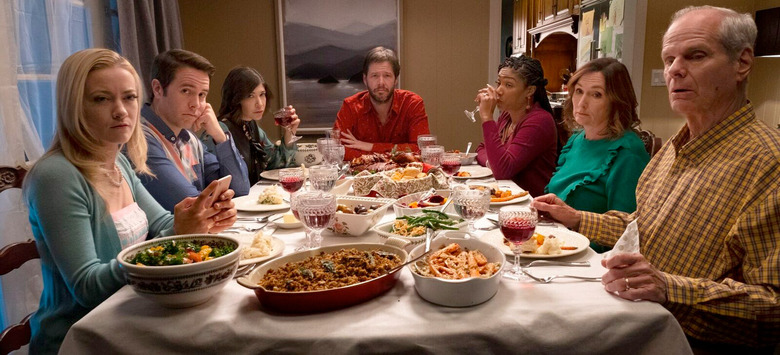 Thanksgiving is a wonderful holiday when families gather to feast and enjoy fellowship with each other. It's also a time when you can't help but get into an argument about politics with your extended family, creating tension in the household as you aggressively eat your pumpkin pie. Well, that dreaded conversation is about to get a whole lot worse thanks to a new comedy.
The Oath, a new film starring Ike Barinholtz and Tiffany Haddish from the producers of Get Out and BlacKkKlansman, unfolds at Thanksgiving in the wake of an unprecedented decision by the government asking citizens to sign a loyalty oath to the President of the United States of America. What the hell does that mean? We're not sure, but The Oath teaser trailer will certainly make you feel like you're home for the holidays.
Watch The Oath Teaser Trailer
This first teaser trailer doesn't give much away in the vein of details about the titular oath that citizens are being asked to sign. Instead, it focuses on the all-too-familiar confrontations between family members when political ideologies clash and you can't help but lash out at each other in the most insulting ways possible.
However, there are hints of a Purge level of physical confrontation here. Plus, the official synopsis hints that this family Thanksgiving is made all the more uneasy when two government agents (played by John Cho of Searching and Billy Magnussen of Game Night) get involved, so perhaps there's some kind of punishment awaiting those citizens who don't sign this mysterious oath by the deadline on the day after Thanksgiving.
The unique premise for this comedy is certainly intriguing, giving it a sort of Idiocracy vibe but on a much smaller scale. Plus, Ike Barinholtz wrote and directed this movie himself, so it'll be interesting to see what he can do on the page and behind the camera. Joining him and Tiffany Haddish on screen are also Meredith Hagner, Carrie Brownstein, Jon Barinholtz, Nora Dunn, and Chris Ellis.
A controversial White House policy turns family member against family member in The Oath, a savagely funny dark comedy about surviving life and Thanksgiving in the age of political tribalism. When Chris (Ike Barinholtz), a high-strung 24-hour progressive news junkie, and his more levelheaded wife Kai (Tiffany Haddish) learn that citizens are being asked to sign a loyalty oath to the President, their reaction is disbelief, followed by idealistic refusal. But as the Thanksgiving deadline to sign approaches, the combination of sparring relatives, Chris's own agitation and the unexpected arrival of two government agents (John Cho and Billy Magnussen) sends an already tense holiday dinner gathering completely off the rails.
The Oath hits theaters this fall on October 12, 2018.