Planned 'Star Wars' Spin-Off Was Set On Tatooine, Confirms Production Designer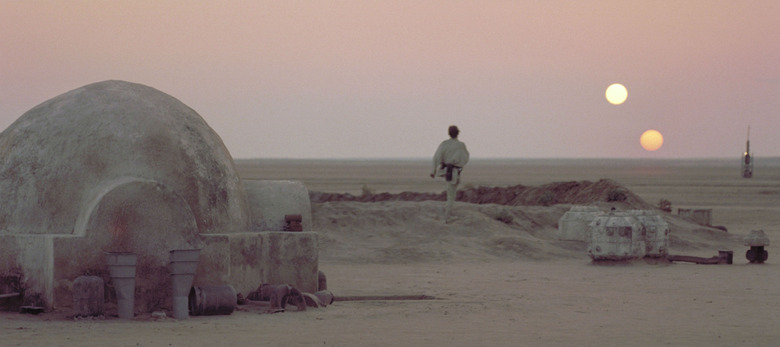 Earlier this summer, word came out that Disney and Lucasfilm were placing the Star Wars spin-off movies on hold in the wake of Solo: A Star Wars Story's disappointing performance at the box office. The studio quickly came out and refuted that claim, but follow-up news basically said the same thing that the initial report did: the spin-offs are still in development, just don't expect to hear anything official about them for a little while as Lucasfilm licks their wounds.
At the time, we heard a rumor about how one of the spin-offs was actually building sets on the Pinewood sound stages in the UK. Now, that project's production designer has confirmed that Tatooine was the setting of the movie. Was this the long-rumored standalone film about Obi-Wan Kenobi?
In a new interview, CinemaBlend spoke with production designer Neil Lamont to discuss his work on Solo: A Star Wars Story, which is coming to home video soon. During their conversation, Lamont was asked if there were any specific fictional locations he wanted to work on, and he responded with a confirmation that Tatooine was to be the setting (or at least a setting) of a future spin-off movie that's been temporarily shelved:
"We were just starting our work on another Star Wars spin-off and yeah. We were actually just making our mark on Tatooine — which would have been interesting and some other new galaxies. So hopefully, if that comes back, we'll get the chance to be able to do that further."
While the natural assumption here would be to think this Tatooine-set spin-off could have been about Obi-Wan Kenobi, taking place between Revenge of the Sith and A New Hope and featuring the return of Ewan McGregor to the role, there may have been something else going on here. MakingStarWars, who generally has a good track record with Star Wars information, reported that there was a movie in the works about the Mos Eisley spaceport on Tatooine, and that was actually the project that ended up being shut down. (They acknowledged, however, that their sources could be wrong.) Whatever it was, construction on sets was definitely underway and the studio pulled the plug on it and released the sound stages they were renting from Pinewood.
To be clear, the Mos Eisley spaceport movie and even the Obi-Wan movie should still be considered rumors – remember, Disney/Lucasfilm hasn't ever officially announced any of the spin-offs beyond Rian Johnson's trilogy and the films that Game of Thrones showrunners David Benioff and D.B. Weiss are working on. (Remember that Boba Fett film that Logan's James Mangold is supposed to be directing? Technically, that was never officially announced, either.)
As for the Obi-Wan movie, Ewan McGregor still hasn't heard any offers from the studio about that project – or if he has, he's lying to the public about it to keep things a secret until the last possible moment. He recently went on The View (of all places) and was asked if George Lucas picked up the phone and asked him, would he come back to the role of Obi-Wan? Showing superhuman restraint not to inform the host that George Lucas no longer has any control over franchise decisions, McGregor instead simply said, "I would totally do it, of course. There's no plans as such to do it, as far as I know." That's a familiar refrain – it's the same thing he's been saying for years.
But at least now we know for sure that a spin-off involving Tatooine was in the works in some form before being obliterated by Lucasfilm's Death Star.