'Bad Times At The El Royale' Interviews: Drew Goddard, Jeff Bridges, Jon Hamm, And Dakota Johnson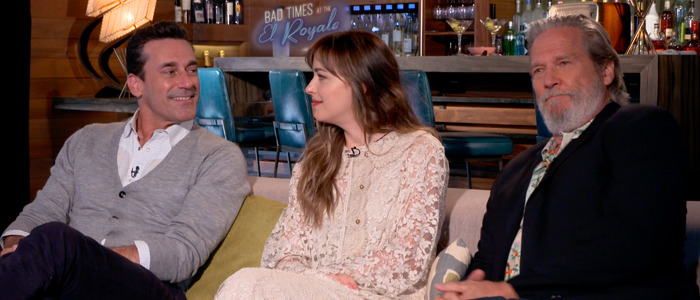 In June, I visited Lake Tahoe, California to attend an early press day for Bad Times at the El Royale, a new crime thriller from writer/director Drew Goddard (The Cabin in the Woods). That's the setting for the new film, a mystery that unfolds in 1969 and centers on a run-down motel on the state line between California and Nevada. That duality is an integral part of the movie – characters aren't always what they seem, and their shaky allegiances can switch sides in an instant when things go wrong (and naturally, things go very wrong).
During the junket, I jumped in a small boat and was taxied out to a yacht on Lake Tahoe, where I interviewed Goddard about why surveillance plays a large part in his movies, how he makes movies that reveal more layers on multiple viewings, and more. I also had the chance to speak with stars Jon Hamm, Dakota Johnson, and Jeff Bridges about the details in Goddard's script, how the setting informed their physicality, and a lot more.
Bad Times at the El Royale Interviews
For more about the movie, be sure to check out our interview with rising star Cynthia Erivo, who plays a soul singer named Darlene Sweet. During an extended take in the movie, Erivo – who got her start as a Broadway star and will soon appear in Steve McQueen's upcoming thriller Widows – sings an entire song while Jon Hamm's character secretly watches from behind a one-way mirror. During our chat, she told us about doing 27 takes of that scene, jamming with Jeff Bridges between takes, and her character's dynamic with Bridges' morally questionable priest. Chris Hemsworth (Avengers: Infinity War), Nick Offerman (Parks and Recreation), Cailee Spaeny (Pacific Rim Uprising), and Lewis Pullman (The Strangers: Prey at Night) round out the cast.
Here's the official synopsis:
Seven strangers, each with a secret to bury, meet at Lake Tahoe's El Royale, a rundown hotel with a dark past. Over the course of one fateful night, everyone will have a last shot at redemption...before everything goes to hell.
Bad Times at the El Royale arrives in theaters on October 12, 2018.