Kevin Smith Reveals Wrestler Chris Jericho As The Gator Chaser In 'Killroy Was Here' Horror Anthology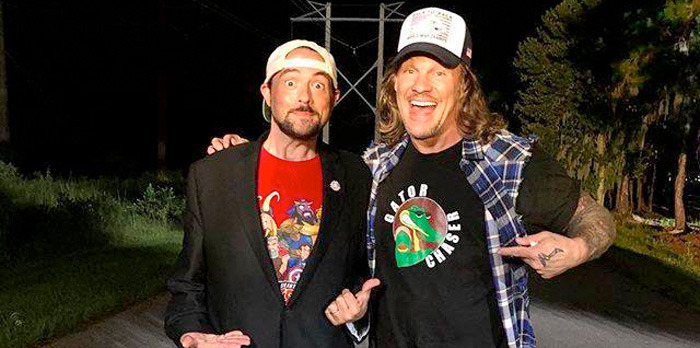 Kevin Smith got his start with a true indie in the form of Clerks, a movie shot for $27,575 that ended up selected by Sundance, made $3 million at the box office, and launched the career the filmmaker has today. For his latest project, the director is going back to those lower budget roots, complete with a student film crew full of nothing but passion for filmmaking.
As we've previously heard, Killroy Was Here is a new horror anthology film Kevin Smith co-wrote with executive producer Andrew McElfresh. The film has been described by Smith as being in the vein of Creepshow, as well as having the "ironic twists and grisly moments" of The Twilight Zone. Now Smith has revealed one of the film's characters, one who will be played by WWE wrestler Chris Jericho.
Here's the photo Kevin Smith posted to both Instagram and Facebook yesterday:
Kevin Smith called this character The Gator Chaser, described as "a nasty-ass South Florida streamer," and that's Chris Jericho looking like a true gentleman of the South. It sounds like The Gator Chaser is the kind of guy who gets attention and presumably a paycheck by broadcasting an alligator tracking series on the internet for everyone to see. Perhaps one of these alligators finally chases him? Then again, this has also been referred to as a monster movie, so maybe he encounters something more dangerous.
Details on this particular segment from Killroy Was Here weren't divulged in this post, but Smith did reveal that even Chris Jericho himself is pulling double duty on this film set, which has a crew comprised mostly of students from Ringling College of Art and Design. Smith explained in his social media posts:
"Every crew member wears multiple hats on a low budget film – so last night when Jericho got to set, I asked the master podcaster and WWE icon to not only act but also operate the camera for himself in his scene as well! When presented with this info, did the Fozzy frontman show trepidation? No way: homey goes with the flow and not only CRUSHES his character and dialogue but shoots a damn spooky scene as well! That's the kind of actor or actress you need on an indie film: a partner who'll not only carry their end of the bargain but also help elevate the entire production as well! And even when this pic was taken at 4 in the morning, Chris was all energetic – and mind you, he just got back from Europe the night before."
This sounds like another true indie production from Kevin Smith. Maybe this kind of project will allow Smith to better tap into his filmmmaking roots so that he can get back to what made us love him in the first place. Obviously, he's grown as a filmmaker, but in recent years his films have lacked the kind of passion and special touch that fueled his earlier work. Movies like Tusk and Yoga Hosers don't inspired much confidence, but we'll keep our fingers crossed that this is something worth watching.