Amazon May Acquire Landmark Theatres Movie Chain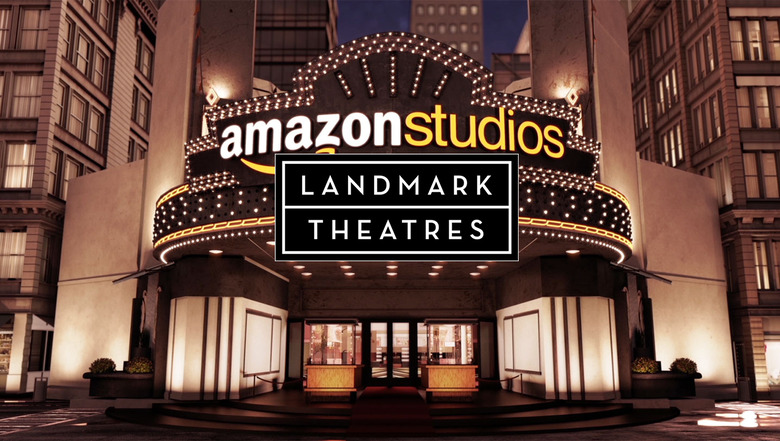 Amazon is expanding its footing in Hollywood into the brick-and-mortar industry. The tech giant is reportedly in the running to acquire Landmark Theatres, a move that comes soon after the Department of Justice announced its intention to re-evaluate a law barring movie studios from owning theatrical chains.
Bloomberg reported that Amazon.com Inc. is vying with competitors to acquire Landmark Theatres, the indie-focused theater chain with more than 50 locations across the country. If successful, Amazon would acquire the theater chain from Wagner/Cuban Cos., which is backed by billionaire Mark Cuban and Todd Wagner. The company holds high-profile locations in New York, Philadelphia, Chicago, Los Angeles and San Francisco, with about 250 screens in 27 markets.
I hope we all can appreciate the irony of Amazon, the disruptor of brick-and-mortar bookstores and the theater-going experience, vying for a part in the industries it once damaged. Amazon opened its first brick-and-mortar storefront in 2015, and has expanded to nearly 20 around the country — which probably feels great for all the local bookstores that closed down because of Amazon's popularization of online book retail.
Now, Amazon is looking to make inroads into theater chains. This is not a surprising move for the company, which has steadily expanded its original content output in both TV and movies through its Amazon Studios. The company has found critical and commercial success with its theatrical releases, and is perhaps looking for a cheaper form of distribution. The concept of a major movie distributor owning theater chains would have been unthinkable until earlier this month, when the Department of Justice announced plans to review the antitrust rules that barred studios from owning theaters for 70 years.
So this move has quite fortuitous timing for Amazon. The company can expand its physical presence (just last year, it acquired Whole Foods for $13.7 billion) while the digital landscape grows more competitive between Netflix, Hulu, and possibly, Apple.
However, there are no further details on these discussions, which remain mostly hush-hush. In April, Cuban told the Hollywood Reporter that he hired a bank to evaluate offers, but said that he was in "no rush to sell." We'll have to wait and see whether Cuban's stance has changed since then.