Greta Gerwig's 'Little Women' Cast Keeps Getting Better, Adds Laura Dern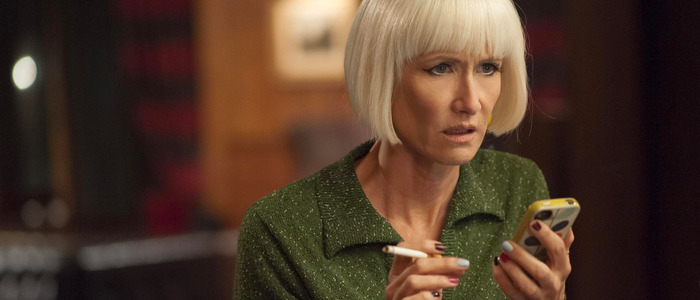 In her never-ending quest to drive Film Twitter into a frenzy, Greta Gerwig is adding yet another impressive name to her already impressive Little Women cast: Laura Dern. Dern will join a line-up that includes Meryl Streep, Saoirse Ronan, Timothee Chalamet, Emma Stone and Florence Pugh.
What's that? You thought Greta Gerwig was done adding impressive actresses (and actors) to her adaptation of Little Women? Think again! THR has learned that the always-incredible Laura Dern is now in talks to join the film. There's no word on which character Dern might play, so I'm going to just go ahead and assume she's reprising her role of Lula Fortune from Wild At Heart. I could be wrong, though.
Little Women is Gerwig's adaptation of Louisa May Alcott's classic novel about four sisters growing up during the backdrop of the Civil War. When the project was first announced, Gerwig's take was described as a "retelling", which could indicate she's straying from the source material in some regard. Gerwig might even attempt a modern-day version of the story. That might sound crazy, but a modern-day Little Women remake is being released next month, distributed by Christian film company Pure Flix and starring Lea Thompson. It's safe to say Gerwig's take on the story is going to be considerably different than the Pure Flix version.
Here's the book's synopsis:
As a New England mother struggles to support her family in the wake of her husband's service in the Civil War, her four daughters struggle, too—caught between childhood dreams and the realities of burgeoning adulthood. For Meg, Jo, Beth, and Amy March, raised in integrity and virtue, negotiating the right path in life means making choices that will either narrow or expand their destinies.
Should Dern sign onto Gerwig's Little Women, she'd be joining Saoirse Ronan, playing primary character Jo March; Emma Stone and Florence Pugh as Jo's sisters, Meg and Amy; Meryl Streep as Marmee, the matriarch of the family; and Timothee Chalamet as Jo's friend Laurie Laurence. Sharp Objects breakout Eliza Scanlen is also in talks to play Beth. All of these people, plus Gerwig, are pretty great on their own, which makes the prospect of them coming together very exciting.
Dern can next be seen in Jeremiah Terminator LeRoy, which will close out the Toronto Film Festival. She's also currently filming Big Little Lies season 2, which also features Little Women co-star Meryl Streep.