Disney's 'Lady And The Tramp' Remake Adds Tessa Thompson And Benedict Wong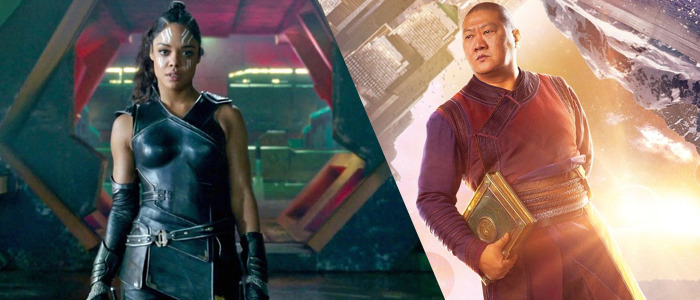 Tessa Thompson is having a hell of a year. She played supporting roles in Boots Riley's blistering satire Sorry to Bother You, Alex Garland's mind-bending Annihilation, and the second season of HBO's twisty prestige drama Westworld. She was recently cast as the female lead of Sony's Men in Black reboot, and now she has another leading role to add to her ever-growing resume: she'll provide a voice in Disney's live-action/CGI hybrid remake of Lady and the Tramp.
Thompson isn't the only one to join the Lady and the Tramp cast: Benedict Wong (Avengers: Infinity War) is also on board. Find out more about who they're playing below.
Collider reports that Thompson will provide the voice for Lady, while Wong will lend his voice to the character of Bull, a stray English bulldog who's friends with Tramp. Justin Theroux (The Leftovers) will voice the Tramp, while Ashley Jensen (Extras) will play a Scottish terrier named Jackie, a close friend of Lady's. That character appears to have been gender-swapped, because it was named Jock in the original movie. Here's a clip of Lady and Jock from the animated feature:
The 1955 animated film was billed as Walt Disney's "happiest motion picture," a musical romance about an upper-class dog who falls for a scoundrel stray with a checkered past. Here's the original film's synopsis:
This Disney animated classic follows a pampered cocker spaniel named Lady (Barbara Luddy) whose comfortable life slips away once her owners have a baby. When, after some tense circumstances, Lady finds herself on the loose and out on the street, she is befriended and protected by the tough stray mutt Tramp (Larry Roberts). A romance begins to blossom between the two dogs, but their many differences, along with more drama at Lady's household, threaten to keep them apart.
In the original movie, we never see a full-body glimpse of Lady's owners, and they're known only by their pet names for each other: "Jim Dear" and "Darling." Kiersey Clemons (Hearts Beat Loud, Dope) is on board as Darling in this version. This remake is going to be directed by The LEGO Ninjago Movie's Charlie Bean, and it's going straight to Disney's streaming service, which is set to launch in late 2019.
Those credits I listed from Thompson earlier would be enough for most actors to count 2018 as a high point in their careers, and that's not even including her appearance in music videos with Janelle Monae, her two-episode run on season 2 of Netflix's Dear White People, or her upcoming star turn in Creed II. Like I said – she's having a hell of a year.