'Castle Rock' Season 2 Confirmed By Hulu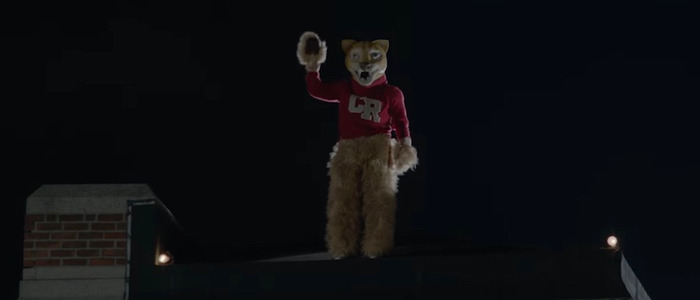 Hulu wants to stay in the Stephen King business, so they've given the go-ahead to Castle Rock season 2. So get ready to spend even more time in King's famous haunted town. In the past, creators Dustin Thomason and Sam Shaw confirmed Castle Rock will be an anthology, with new characters and stories each season. Which means you can expect a whole new world of King-centric horrors to come.
Castle Rock season 1 is currently engrossing large audiences each week, so much so that Hulu is more than willing to give it a second season. Per Hulu, Castle Rock was "the most successful first-season original launch" for the streaming service, as well as having "the highest view-through rates" for a Hulu original in its first and second weeks. The show is set within the world of Stephen King. While Castle Rock isn't a straight adaptation of any specific King work, it's loaded with Stephen King easter eggs. It's also pretty damn engrossing.
This is a show that subscribes to executive producer J.J. Abrams' "mystery box" philosophy – each episode unleashes yet another surprising mystery so we have no choice but to keep following along. Season 1 focuses on Henry Deaver, a man who returns to his home town of Castle Rock and gets caught in the middle of a disturbing, possibly supernatural mystery.
At times, the mystery boxing of Castle Rock can grow frustrating. But there's a pretty good chance that most of the unanswered questions will be wrapped up before season 2 – in order to make room for a whole new set of mysteries. When I spoke with Castle Rock creators Dustin Thomason and Sam Shaw at Comic-Con, they confirmed that Castle Rock is an anthology show, with each season introducing a new story and new set of characters.
"Our plan was always to tell a series of self contained stories," Shaw said. "[And to] approach each season as an unwritten Stephen King novel. [King is like] a genre unto himself...and there are seven or eight well defined sub-genres [as well]. We've always loved the stories dealing with crime and punishment, and prisons, and Stephen King sort of grappling with real-world monsters – and what we do with them, and where we put them, how we treat them, and whether that makes us monsters. So this season is written very much in the shadow of [The Shawshank Redemption] and The Green Mile, and some of the stories that deal with incarceration."
While I've been enjoying Castle Rock season 1, I'm very interested to see what type of King-inspired story the creators will come up with for season 2. There's a whole world of options to choose from. King is, of course, experiencing a big resurgence at the moment. The author's work never really went away, but thanks primarily to the box office success of 2017's It, more and more producers are jumping on the Stephen King bandwagon and greenlighting adaptations, remakes and more. The pessimist in me realizes that this Stephen King adaptation bubble is going to eventually burst. For now, though, the Stephen King fan in me is happy to ride it out.