'It Follows' Director David Robert Mitchell Adapting Horror Short 'They Hear It' Into Feature Film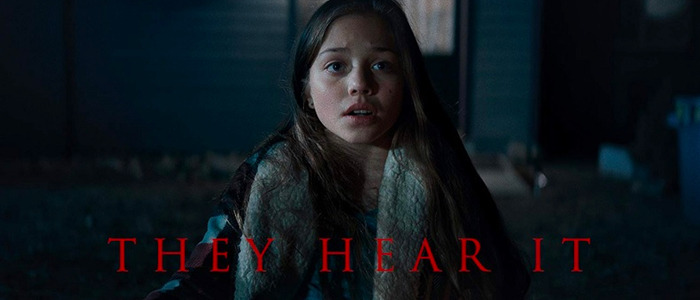 David Robert Mitchell, who broke onto the horror scene in a big way with It Follows, is returning to the genre with They Hear It, an adaptation of the short film of the same name. Mitchell will write the script, but not direct. Those duties instead fall to Julian Terry, who helmed the original short film.
THR broke the news about the They Hear It feature film. After It Follows, Mitchell went off and made the still-unreleased Under the Silver Lake, but it's nice to see he's getting back into the horror genre. They Hear It is an adaptation of the short of the same name, which focused on a "mysterious presence called 'The Sound' that once heard by anyone has terrible consequences."
It's become something of a trend to adapt horror shorts into feature films. Andy Muschietti, director of It, launched his feature career with Mama – a film adapted from his original short movie. Mike Flanagan's haunted mirror film Oculus also started out as a short movie. Jennifer Kent turned her short film Monster into the horror hit The Babadook. And Light's Out also originated as a short film, directed by David F. Sandberg. Sandberg went on to helm Annabelle: Creation, which actually has a connection to They Hear It director Julian Terry.
Terry's short film The Nurse was the winning entry in the "My Annabelle Creation Video Contest", which encouraged filmmakers to create a short film set in The Conjuring universe with the hopes of getting a chance to meet Sandberg and a New Line Cinema executive to pitch future ideas. You can watch The Nurse below.
The Nurse 
Terry has another horror short available online called Whisper, which involves a creative use of the Amazon Echo.
Whisper
THR says the feature adaptation of They Hear it will have "Alfred Hitchcock classic The Birds and Stephen King's adaptation It as touchstones." Neither of those films is anything like the other, so I'm not quite sure what that means. This project was initially announced in July, at which point the film was also compared to A Nightmare on Elm Street, with the focus on an "ominous presence that stalks the youthful inhabitants of a small community." That certainly fits in with It and Elm Street. Just not sure where The Birds fits in. But I guess we'll find out.
Mitchell's Under the Silver Lake premiered at Cannes this year, and was originally set for a June release by A24, before being pushed to December 7, 2018 instead.