Neill Blomkamp Says Peter Weller Should Play Robocop In His Sequel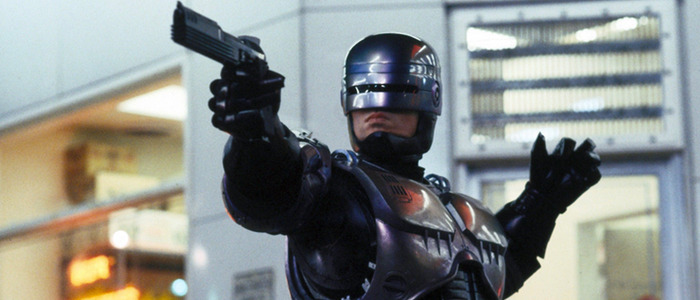 In early July, we learned that District 9 and Chappie director Neill Blomkamp will be at the helm of a new RoboCop movie called RoboCop Returns. It's both a reboot of the franchise and a direct sequel to Paul Verhoeven's 1987 sci-fi classic, and if Blomkamp has his way, he's going to get original star Peter Weller to reprise the role once again.
On Twitter, someone asked the filmmaker who should suit up as the title character in the upcoming sequel, and Blomkamp was quick to respond with one name and one name only:
My first thought was that Blomkamp is simply paying his respects to Weller, who played the character of police officer Alex J. Murphy in both RoboCop and RoboCop 2. But considering the plot of this new movie – "anarchy reigns and the fate of Detroit hangs in the balance as RoboCop makes his triumphant return to fight crime and corruption" – it actually seems possible (maybe even probable?) that Blomkamp could be teasing Weller's return here. The upcoming Halloween movie seems to be the template to follow here: bringing the original cast back for another round while ignoring sequels that the contemporary filmmakers don't like or want to contend with.
Weller is 71 years old. Despite films with older action stars like The Expendables franchise coming out in recent years, Hollywood executives still don't think of 71 as an ideal age for an actor to lead a studio-produced movie. Could Weller's Murphy be coming back to pass the torch to the next generation? We already saw a remake of RoboCop in 2014 that failed to recreate the magic of the original, but Weller's presence would certainly lend this version an extra air of respectability. We know original writers Ed Neumeier and Michael Miner are on board here as producer and executive producer, respectively, and Justin Rhodes, who co-wrote the next Terminator film, is rewriting their old script that was intended to be the screenplay for RoboCop 2.
Talking about this amongst ourselves, /Film's Jacob Hall suggests that Blomkamp could frame Weller as a slave of sci-fi bureaucracy – a government servant who literally cannot leave his job and retire – as a way to update the vicious satire of the original movie. I can absolutely see that approach working, and it could dovetail nicely with Blomkamp's previous statement about what he finds interesting about this story:
"As I've gotten older, the part [about the original RoboCop] that really resonated with me is identity, and the search for identity. As long as the human component is there, a good story can work in any time period, it's not locked into a specific place in history...What draws me now is someone searching for their lost identity, taken away at the hands of people who are benefiting from it, and seeing his memory jogged by events. That is most captivating."
Weller played a heavy in Star Trek Into Darkness, played a significant role in the final stretch of Showtime's Dexter, and led the TV series Longmire for years. He'd be a welcome addition to RoboCop Returns, and we'll keep you posted if this casting actually comes to pass.