'Climax' Trailer: Gaspar Noé And A24 Team For One Strange Trip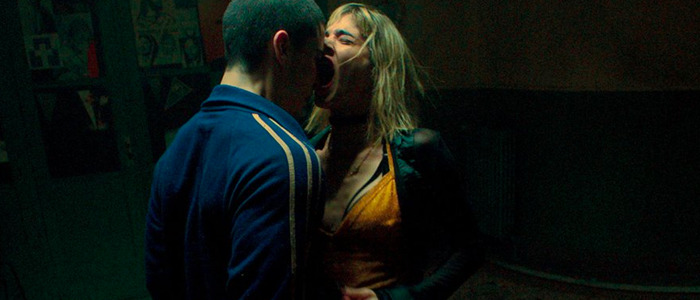 Gaspar Noé, a filmmaker who revels in pushing things to the extreme, is back with Climax. The latest film from the Irreversible director focuses on a troupe of dancers dealing with a bad trip after accidentally taking psychedelic drugs. Sounds fun! Watch the Climax trailer below.
Climax Trailer
Gaspar Noé is a very talented filmmaker, but more often than not, his films seem to be the equivalent of someone posting deliberately provocative stuff online and then smugly saying, "Oh, are you triggered, snowflake?" when someone complains. I get it – that's fine. Still, it can be a bit exhausting. To his credit, Noé isn't above leaning in to this distinction. Just look at the deliberately smarmy teaser poster for Climax.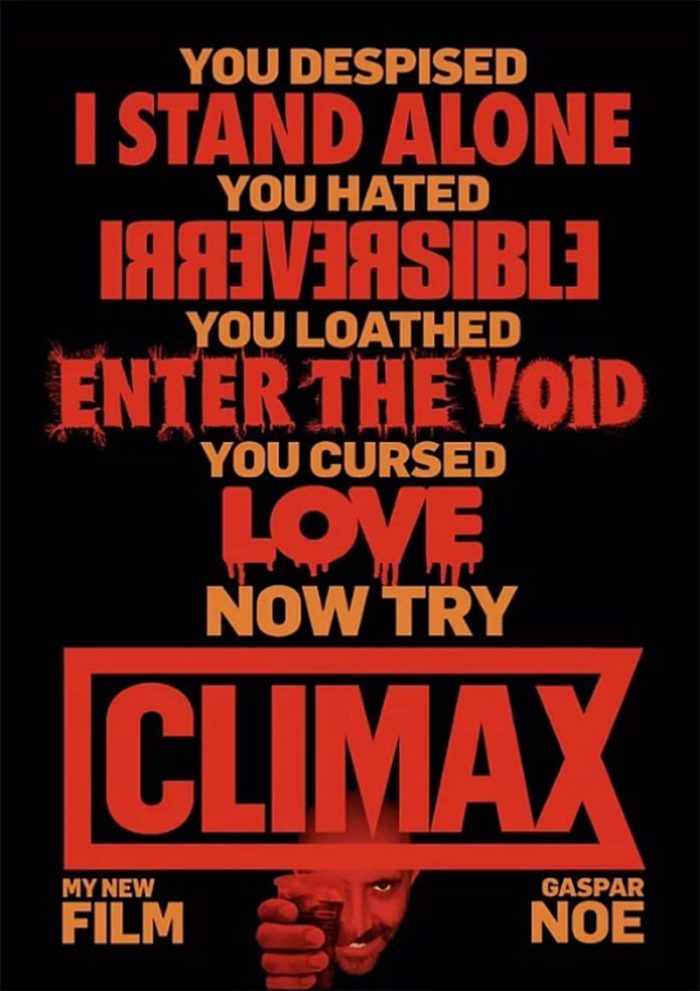 Climax is set over the course of one night, and follows a dance troupe slowly descending into chaos after taking LSD. That may not sound like much of a story, but I'm sure Noé will find a way to make it work. Climax debuted at Cannes, where it won the Art Cinema Award, after which it was snapped up by superstar indie film company A24.
The film garnered mostly good reviews out of Cannes, with the Village Voice saying:
"Climax isn't so much about the inevitability of chaos, but about the sadness of watching something beautiful fall apart. And it is never less than electrifying."
And the A.V. Club adding:
"More brilliantly deranged, in its microscopic vision of society in collapse, than anything the director has ever inflicted on us."
Climax boats a large cast, but the most recognizable name is Sofia Boutella, a dancer turned actress who has made a big impression in films like Kingsman and Atomic Blonde. Heck, she was even pretty good in that terrible Mummy reboot.
A24 will release Climax sometime in 2018.
From director Gaspar Noé (Irreversible; Enter the Void; Love) comes a hypnotic, hallucinatory, and ultimately hair-raising depiction of a party that descends into delirium over the course of one wintry night. In Climax, a troupe of young dancers gathers in a remote and empty school building to rehearse. Following an unforgettable opening performance lit by virtuoso cinematographer Benoît Debie (Spring Breakers; Enter the Void) and shot by Noé himself, the troupe begins an all-night celebration that turns nightmarish as the dancers discover they've been pounding cups of sangria laced with potent LSD. Tracking their journey from jubilation to chaos and full-fledged anarchy, Noé observes crushes, rivalries, and violence amid a collective psychedelic meltdown. Starring Sofia Boutella (Atomic Blonde) and a cast of professional dancers, Climax is Noé's most brazen and visionary statement yet.