'Sharp Objects': The Shiny "Cherry" With A Dark, Hard Pit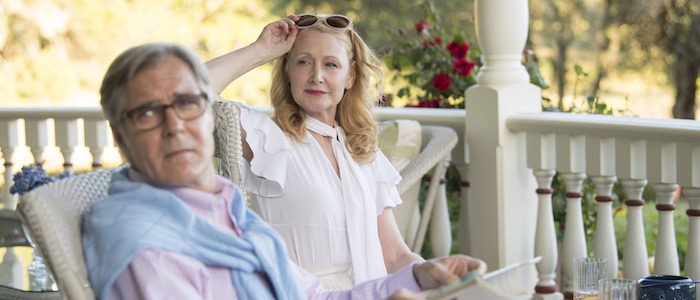 This week's Sharp Objects is all about the ways that we take our pain out on ourselves instead of others. Camille turns all of her anguish, grief, rage and guilt inwards, while the women in her life – Adora, Amma, even Jackie – use it as a weapon on those that surround them.
"You took it out on yourself."
Camille's tendency for self-castigation over cruelty is part of what makes her a little more palatable than the rest of Wind Gap's female population ("You were better than most," Hilary Ward's Becca tells Camille about her place in the pantheon of high school mean girls bullying one of the only young black women at Wind Gap High), but that absence of malice has not left her soft. The opposite is true, in fact, with Camille's internal punishment strengthening her against any outward attack, whether it comes from the seemingly gentle Alan or from one of the boys who sexually assaulted her as a teenager.
Now Kirk Lacey wants to apologize for "what happened," because he has daughters, no less, but god bless Camille Preaker for not letting this mournful monster off so easy. He's been haunted by the day that he and his teammates ran a train on a teenaged Camille, he has the nerve to tell the woman he abused. "Well, looks like we both got fucked," she shrugs, because Camille has been hurt by Adora and more pressingly by herself for so long that she no longer has room for either anger or compassion toward this pathetic man who abused her in high school. All of her hatred is pointed within.
"It's safer to be feared than loved."
But she might want to save a little of that fire for Amma, who's learned from her mother and appears to be the only other living human who has the power to wound Camille. Still, Amma's smart, wielding that weapon intermittently, like Lucy leaving the football for Charlie Brown to kick just often enough that when she yanks it, he doesn't see it coming.
The sisters are growing closer, much too close for comfort this week, thanks to Oxycontin, MDMA, a lot of bourbon and some good, old-fashioned spinning. We know we can't trust Amma – Eliza Scanlen's eyes are wide, cool warning signs flashing on that fair face – but Camille, savvy as she is, doesn't seem to want to admit it to herself just yet. Even when her instincts are pulling her away, telling her to walk home by herself, to skip the party, to sleep alone, Amma doses her with a fair bit of wheedling and some pretended fear of rejection, and suddenly the little sister is back in control. As accustomed to protecting herself as Camille has grown, she knows what Adora does to a daughter, and she seems to feel responsible for the troubled Amma. Even when Amma outwardly warns Camille – "it's not safe here for you" – Camille leaves herself vulnerable for the first time since, well, probably since the last time she lived in that cold, beautiful mansion.
"I believe she's outstayed her welcome."
We saw less of Adora this week than we have yet on Sharp Objects, but even when Patricia Clarkson isn't commanding every frame of the series, her specter looms large over Wind Gap's proceedings. Whether she's watching the sheriff drag the lake, spying on her daughters as they lie in bed or poisoning her husband against Camille, we're constantly reminded that nothing really happens on Sharp Objects without Adora's cool judgment. Of course just about every woman in Wind Gap has a sharp tongue, from Ashley up to Jackie, but there's something about Adora that weighs a little heavier in the background, a dark shadow behind every event that unfolds in this twisted town.
Should we feel sorry for Adora, who apparently had her own abusive mother and who lost a beloved daughter? But there, again, is the difference between mother and daughter – Adora punishes, while Camille self-harms. One lashes out, and the other lashes in. Neither approach seems particularly healthy, but at least Camille's method hurts only herself, bottling the vicious cycle within so that generations of Preakers and Crellins aren't making the same mistakes with their daughters, over and over until Wind Gap has held its very last Calhoun Day.
***
Like a "plump, juicy cherry" with a "dark, hard pit." "Cherry" shows us the way Wind Gap views and shapes its women, treating them like gorgeous confections and leaving them with dark, resentful hearts. But there's something unbreakable about the ugly pit of a cherry, and those are the parts we're most drawn to in Camille. She's beautiful, sure, but more importantly, she's strong and dark and ferocious. Wind Gap can keep trying to chew her up and spit her out, but she'll always have that small, hard strength inside.