'Jeopardy!' Is Streaming On Hulu Now, So Say Goodbye To Your Productivity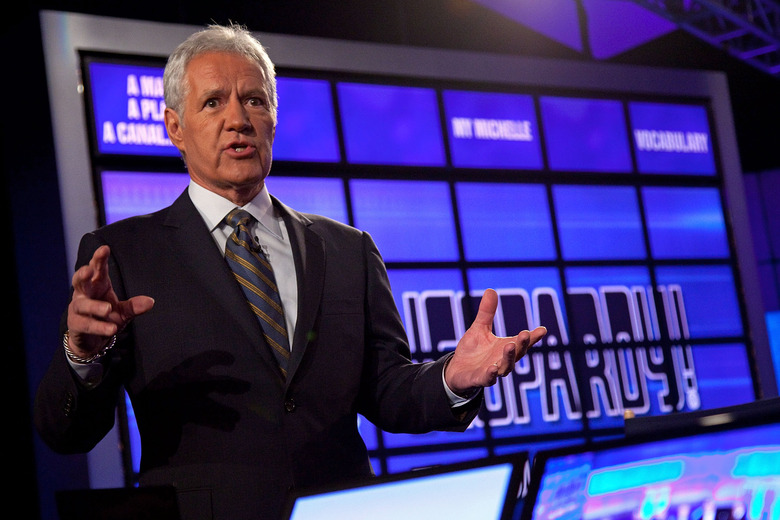 I'll take Jeopardy! on Hulu for $500 please, Alex. The long-running syndicated game show hosted by Alex Trebek will make its streaming debut on Hulu this week. You know what that means, all you trivia nerds: you can say goodbye to your productivity for the next month.
After 35 years in syndication, Jeopardy! makes its first-ever streaming deal with the streaming giant, Hulu. In a deal between Hulu and Sony Pictures Television, 60 episodes will be premiere this week on the streaming service, Deadline reports.
As you can guess, those 60 episodes barely make a dent in the show's library of thousands of episodes. According to Hulu, the platform will be "curating collections of some of Jeopardy!'s flagship special events, including a Tournament of Champions, a College Championship, and a Kids Week, as well as Battle of the Decades," the last of which was the five-week 30th-anniversary tournament held in 2014 that included all-star trivia champions like Ken Jennings.
Hulu also said new episodes would be added regularly, "making it possible for viewers to continuously test their knowledge."
Oh hell yeah, it's time to fire up Hulu and begin our super nerdy trivia nights with our BFF Alex Trebek, pop culture icon and constant chaperone of our sick days. We're never going to get any work done. I'm already getting hyped just watching the Hulu promo for its Jeopardy premiere.
Jeopardy Streaming on Hulu
While we receive new episodes of Jeopardy! on Hulu, the top-rated quiz show will continue producing new episodes for syndication. The show — which is still going strong as the Guinness World Records title holder for the most Emmy Awards won by a TV game show with a whopping 34 wins! — celebrates its 35th anniversary season with its new season premiere on Monday, Sept. 10, 2018.
All 60 special episodes of Jeopardy! are available to stream on Hulu now.