All Marvel Studios Movies Are Coming To IMAX Screens In September, Even 'Incredible Hulk'

We all know Marvel Studios is currently celebrating the 10th anniversary of the launch of the Marvel Cinematic Universe. And while Avengers: Infinity War was one hell of a way to celebrate the unprecedented crossover of all these film franchises, the comic book movie studio has another treat for fans to enjoy this year.
Marvel Studios has announced that all 20 of their movies, from Iron Man to this year's Avengers: Infinity War and Ant-Man and the Wasp, will return to IMAX screens for a limited run at the end of August through the first week of September. But there's a specific schedule for the movies that will make it rather difficult for even the most hardcore Marvel fan to see all of them. Find out more below.
Marvel IMAX Re-Release Announcement
The limited run begins with a matinee of Iron Man on August 30th and runs through every film in the order in which they were released, right up until Ant-Man and the Wasp plays the evening of September 3rd. Then on September 4th and 5th, Marvel will replay Iron Man, Spider-Man: Homecoming, Black Panther, Doctor Strange, Guardians of the Galaxy Vol. 2, Captain America: Civil War, The Avengers and Avengers: Age of Ultron.
The shows on September 6th will be a double feature voted on by the fans. IMAX and Marvel Studios will release a poll on Twitter for fans to determine which movies will play on that day. Personally, my vote would be for Guardians of the Galaxy and The Avengers, but that's just me.
Here's the full Marvel film festival schedule so you can plan accordingly: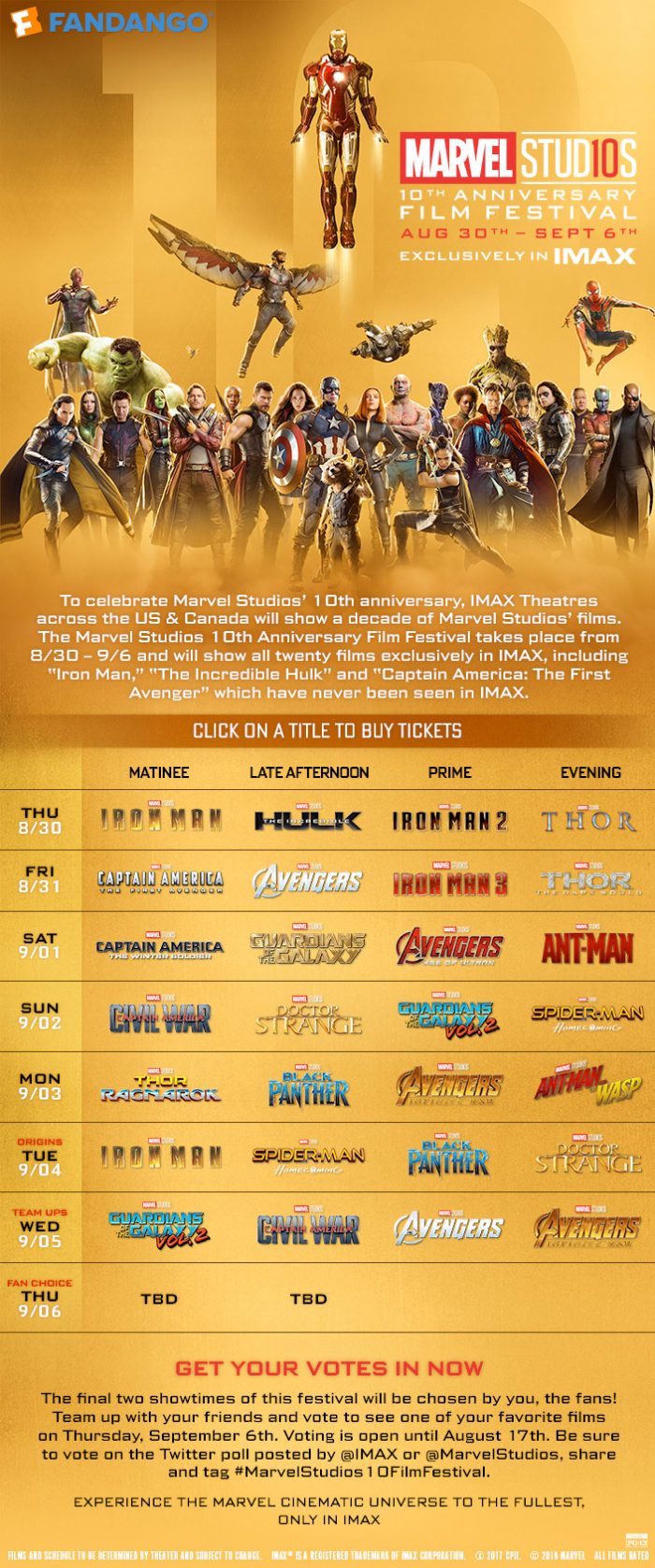 Honestly, as cool as it is for these movies to return to theaters, this schedule is rather frustrating, especially since this is the first time some of these movies are being presented in the IMAX format. Couldn't they make this limited Marvel IMAX re-release a little more accessible to people who have jobs? That would have been nice.
If you want to find out where the Marvel IMAX re-release run is happening at a theater near you, head over to Fandango.