John Travolta Went And Made A VR Crime Series That Looks Completely Ridiculous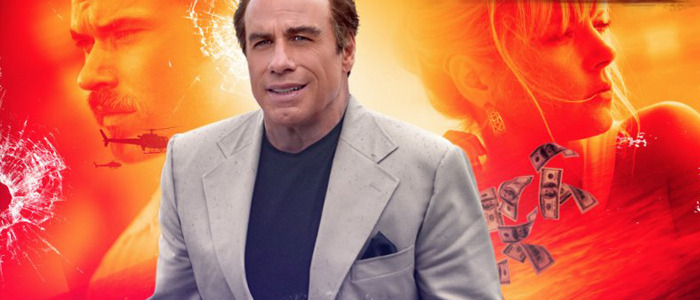 Someone stop John Travolta.
I thought Gotti would mark a low point for the Pulp Fiction star this year, but the two-time Oscar nominee isn't ready to give up just yet. He's starring in Speed Kills, a virtual reality crime series (!) set in 1980s Miami that's based on a true story. Travolta plays a speedboat racing champion (!!) who gets caught up with the mob, cruises around in a boat with "007" painted on the side, and spits out defiant lines like "I'm not selling Blue Thunder to you!" with a totally straight face (!!!). You've gotta see this to believe it.
ScreenCrush's E. Oliver Whitney found these incredible posters and shared them on Twitter.
Speed Kills Trailer
Jodi Scurfield is the director, and the cast also includes Kathleen Winnick, Kellan Lutz, James Remar, Tom Sizemore, and...Matthew Modine as George Bush?! WHAT IS GOING ON? For some answers, Whitney shared this article at VRFocus.com, which breaks things down for us. Speed Kills is an upcoming feature film, and the Speed Kills VR Experience is a 360-degree experience that was shot at the same time as the movie. Here's more:
The title offers a unique perspective inside the life of a notorious speed boat builder, who at one time made the fastest boasts around which were used by both the US Coast Guard and drug smugglers in the late 60's, 70's and early 80's. Speed Kills VR Experience is inspired by a true story that covers the rise and fall of the world champion and multi-millionaire whose life can be witnessed in fully immersive VR.
Created by TopDogVR, the groundbreaking drama is split across eight episodes each running for around seven to nine minutes in length. Each episode explores a different part of the tale include boat racing, mobster beatings, drug running and DEA chasing in full 360-degrees. The action packed experience will give viewers a truly immersive feeling of being a part of the events as they sit right in the heart of the drama.
Here are a couple of clips:
Riveting stuff.
Believe it or not, this actually won Best Feature Film VR 2018 at the Cinequest Film Festival in Silicon Valley earlier this year, and the VR experience has been available to download on Oculus, the Google Play store, and Apple's app store for over three months. (The movie is reportedly getting a theatrical release on November 16, 2018.)
What the hell is Travolta doing starring in this thing? Does he really need the money that badly? This looks like a bar band doing covers of the greatest hits of 1980s mob stories, not adding anything interesting to the genre (other than maybe the speedboat component). There are over 25 executive producers on this thing. Gotti also had over 25 EPs.
Is the real Travolta in over his head with the actual mob, and that's why he's starring in these projects? Someone make a movie about that!