'Luz' Director Tilman Singer On How His Student Horror Film Became A Festival Darling [Fantasia Film Festival Interview]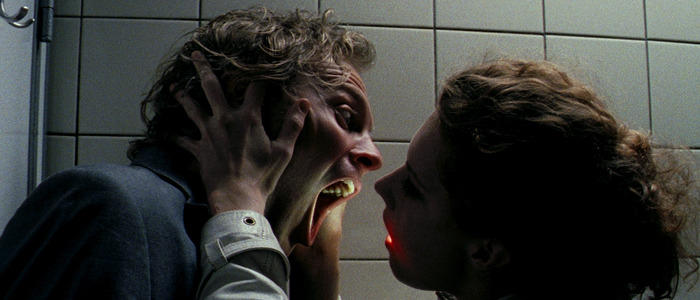 Let's be real: most film students' thesis films are mediocre, at best. And certainly most thesis films don't get into Berlinale or Fantasia. So let me introduce you to Luz, a 70-minute feature written and directed by Tilman Singer. He's a young German filmmaker with a hell of a future ahead of him if he's given the opportunity (i.e the money) to make more work.
In his review for /Film, our own Matt Donato describes the "what-the-f***'"slow-burner that is Luz. There isn't much of a plot to speak of, and the simple narrative (once you figure out what's going on) hints to more of what's offscreen than on. But I'll give it a go: a young Chilean cab driver named Luz wanders into a police station after getting into a car accident after which her passenger disappeared. A psychiatrist, a detective and a sound technician assist in her interrogation. What they discover through hypnosis is, well, demonic. Shot on 16mm with a trance inducing score, the stunningly confident debut is a maelstrom of bodily possession and hypnosis.
I sat down with Luz writer/director Tilman Singer and producer/production designer Dario Mendez Acosta to talk about the film at the Fantasia Film Festival. Topics included demonic possession, the challenges of making a feature at school, and the upcoming Suspiria remake. 
There are so many ways into the film, so I'm curious as to how your started. Did you begin with the idea of demonic possession? With the German and Spanish co-existing? Did you just really want to make a film on 16mm?
Singer: We worked together, the composer, the sound artist, we worked together on some short films. So it was clear to me, 'OK, I have my team. Now I want to tell a story that's a little longer." So I was going for 30 minutes. The first thing I had in mind was some version of the interrogation scene. And what the person being questioned about, we the audience experience it. Not through cut-aways, but with sound. That was my idea, which I built the film around. It came from me doing research about police sketch artists. From that I went into interrogation techniques, and I stumbled upon hypnosis. Some institutions use hypnosis to question their witnesses to get them to re-connect them with their memories.
But that's very faulty, because hypnosis is so suggestive that you cannot really ask for the truth. So then that felt like a great weapon for an evil force in this film. And at the same time by wife who is Columbian taught be about her past in a Catholic School for Girls. I told her that everything she did wrong – I mean she was a child, but we would joke and say "like the devil hung around and you're definitely going to hell." Because why wouldn't the devil hang around a Catholic School for Girls? So it kind of grew into a genre film.
So was it your intention to make the film hard to follow?
Singer: Sometimes when I am working on a script, I don't step back and think "can anyone understand this?" Because for me it's very clear. Every movement and every gesture reminds the audience of where this character is from. I pick up on it. But it just become very convoluted, and I decided to push it even further to try to have a weird hypnotic, claustrophobic effect on the audience by being very much disoriented. And the same time, there's so much repetition. And they always call each other by their names.
The main plot is very simple: a demon is following her in order to get into her. In the name of love or whatever. But it's the most toxic thing. I think a good stand-in for the audience is the interpreter. He's the only one who isn't morally flawed. My plan was basically to hypnotize the audience. And the movie is switching perspective the whole time. We were pretty consistent. And it took us a long time to map it out and figure out, "ok what can the audience hear now?" And I wrote all of that on the script. But it was unreadable!
How were all of these visual elements communicated to you?
Acosta: For me, it's always clear. I don't think you really ask, "how do you want to work on my thesis film?" Just at one point, I was like 'yeah I think I'll also do this as my thesis movie." Because we've worked together a lot, he doesn't tell me a lot of stuff.
Singer: I'm always planning on getting their input. I don't tell them how things look. We talk about themes a lot.
What are the challenges as making this in a school?
Singer: Oh a lot. I did not expect it to be so hard and emotionally tormenting over such a long period of time. I thought of "oh it's like a short film but we're just gonna shoot and edit longer." But we had to get money from the State. So we had to apply for funding, and then wait three months to know if we get the money while producing it ahead blindly. And that's the case in the real world, but in the real world you have a lot of people helping you find funding.
There are a lot of very theatrical elements in the film, in the set, the acting, the ritualistic aspect, etc. Do you have experience in theatre?
Singer: Yeah I do. I played in theatre ensembles and my older brother is an actor. I was on my way to become one. But But yeah it's very theatrical. How she enters the stage, the hypnosis. I let the actors keep their approach and their accents. There's a Berlin accent, an Austrian accent. I really tried to get this very German-ess. I didn't want to neutralize it.
I mean, look at Argento's films: the patchwork of different accents, the overdubbing...
Singer: Yes! And I am always watching my Blu-ray, trying to make sure I am watching the original audio track, but no matter what you select it never ends up great.
Acosta: When I first saw Argento, I was like "wow you can just build everything super cheap and just shoot it, and it still works."
That's why the remake won't work!
Acosta: They're doing a remake?!
Tilman: Yeah, they're doing a serious version of it. And they're like "no, let's not use bright colours, let's use dark colours." Suspiria doesn't have anything in it besides Dario Argento's awesomeness. What, the story? You're going to like enhance the story of a girl going to witch school? Just make your own movie! Make an homage.