'47 Meters Down: The Next Chapter' Trailer: Rinse, Shark, Repeat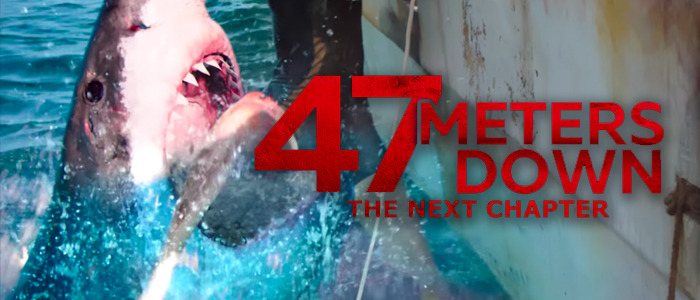 As The Meg prepares to swim into theaters, the first trailer for a different killer shark movie has surfaced online.
47 Meters Down: The Next Chapter, previously titled 48 Meters Down, is the sequel to last year's surprise low-budget hit. The original was made for under $6 million and ended up pulling in $44 million domestically, so a sequel was quickly given the go-ahead. Check out the first trailer for the follow-up below.
47 Meters Down The Next Chapter Trailer
The first film was a fun B-movie that did a lot with a little in terms of its budget, telling a compelling story of two sisters (Mandy Moore and Claire Holt) who, during a vacation to Mexico, decide to go cage diving with great white sharks. Bad idea.
The sequel is directed by Johannes Roberts and written by Roberts and Ernest Riera; both served in those same capacities on the original movie, so they'll be back for a second bite with this one. The sequel relocates the action from off the coast of Mexico to Brazil, where it follows "a group of girls looking for adventure in the coastal metropolis of Recife. Hoping to get off the well-worn tourist trail, they hear about some hidden underwater ruins only to find that the turquoise waves of their secret Atlantis aren't completely uninhabited."
Speaking in vague terms as to not spoil the original, that plot synopsis implies that this isn't a direct sequel. But strangely, the new title – "The Next Chapter" – seems to point to this being a continuing story with the same cast...or at least the same shark. Moore and Holt's names are nowhere to be found in the official press release, so maybe the movie follows one of the sharks they encountered as it swims to Brazil and attacks another group of characters, like a Jaws: The Revenge type of situation. But in all likelihood, "the next chapter" is simply a different story in an ongoing shark anthology – all of which damn well better feature characters going to exactly the same depth, or else this entire naming convention is for naught.
I was expecting this sequel to be put on the super fast track and hit theaters this year to strike while the iron is hot, but 47 Meters Down: The Next Chapter is taking its time and not rushing the production. It's set to arrive in theaters sometime in Summer 2019.