'The Gifted' Showrunner Previews New Original Mutant, No More Trask [Exclusive]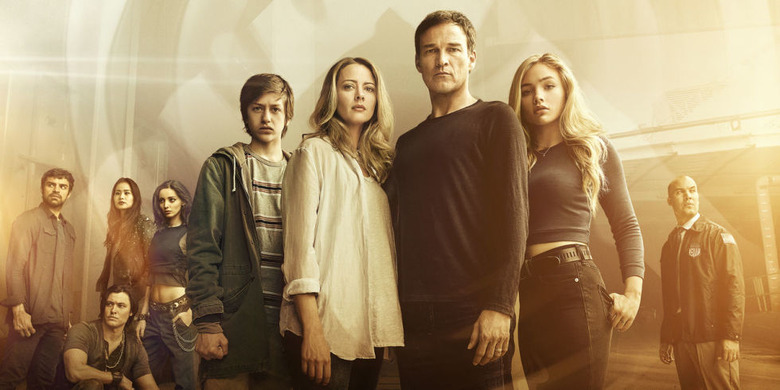 Matt Nix was at the Fox party for the Television Critics Association ,so I got to speak with him about season 2 of his X-Men series The Gifted. We'll bring you the full interview with Nix before the season premiere of the show, but there were a few items that needed to be shared right away.
The Gifted is set in a world where the X-Men have disbanded after rampant mutant persecution. The story revolves around the Strucker family, who found the Mutant Underground after their children manifested powers. In the season finale, Polaris (Emma Dumont) turned full Magneto and brought down a passenger plane to get to an evil senator, and the rest of the underground had to split up and run.
In our conversation, I learned about a new mutant character Nix is creating in season 2 and what's next for Trask Industries.
Meet Twist
Nix already announced that Hellfire Club leader Reeva Payge (Grace Byers) and Erg (Michael Luwoye), leader of the Morlocks, will feature in season two. Nix told /Film that he's invented some original mutant characters as well.
"I can't say a whole lot about her, but there's a fun character called Twist who comes out and plays a big role in the season," Nix said.
Okay, so that's not a whole lot. We've got a name and we know she's a woman, but Nix wouldn't say what her power is yet. However, it's cool that he's not just pillaging the comics for obscure fan service characters. He's giving us that, but also using the genre to create some originals.
He did let us know when we'd get to meet this new character.  "Twist will appear in [episode] four or five," Nix said.
No More Trask
Trask Industries was a big X-Men Easter Egg for fans. Trask played a major role in the film adaptation of X-Men: Days of Future Past too. Peter Dinklage played Boliver Trask in that film, and The Gifted made sure never to have a Boliver Trask, Dinklage or otherwise, appear on screen. Garrett Dillahunt represented Trask as Dr. Roderick Campbell and Coby Bell's character Jace Turner worked for Sentinel Services.
The chances of seeing Boliver Trask on The Gifted have just gotten smaller. Nix confirmed that season 2 moves away from Trask.
"We did Trask last year," Nix said. "This year we're doing another sort of comic related organization so basically what we try to do is we break our stories. Then we figure out okay, what does this resonate with in the comics? So there's a really interesting back and forth for us and the comics of like oh okay, now we need this. Then we'll go to the comics and go, 'If we pull this from the comics, what is it?' Then that influences the story. It's always a back and forth. This year it's not Bolivar Trask but it's another company."
The Gifted returns on September 25, 2018 on Fox.