'The Marvelous Mrs. Maisel' Season 2 Trailer: Get Happy, Because Your Favorite "Mad" Divorcée Is Back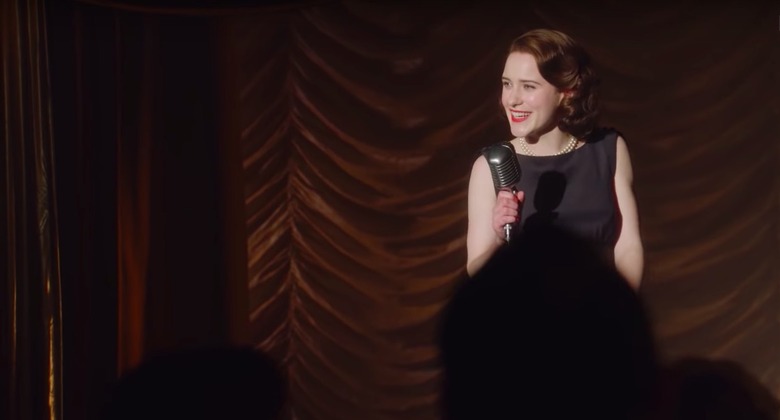 Pack up your troubles and just get happy, because The Marvelous Mrs. Maisel is coming back. Amazon has released the first trailer for the sophomore season of its Emmy-nominated, Golden Globe-winning comedy, and it looks as marvelous and charming as the show's breakout first season. So get prepared to have Rachel Brosnahan charm your pants off as Judy Garland croons "Get Happy" in the background.
The Marvelous Mrs. Maisel Season 2 Trailer
The Marvelous Mrs. Maisel had one of the most revelatory first seasons in recent memory, with Brosnahan delivering an irreverent, fast-talking performance as Midge Maisel, a newly single Jewish housewife who finds herself turning to the stand-up comedy scene after her husband leaves her for his secretary. But turning her life into a punchline turns out to be a little harder than the naturally funny Midge expected, and she struggles to make her mark as a comedian in 1950s New York.
Season 2 of The Marvelous Mrs. Maisel seems to deliver more of the same, with Midge trying to establish herself as both a strong, independent single woman and a rising stand-up comedian. The trailer takes us on a whirlwind of disapproving parents (Tony Shalhoub and Marin Hinkle), exasperated managers (Alex Borstein), and trips to the Catskills.
Amy Sherman-Palladino and Daniel Palladino (Gilmore Girls) created The Marvelous Mrs. Maisel, which will hopefully avoid the pitfalls of the sophomore outings of some other acclaimed prestige shows. And judging by the zippy, raunchy season 2 trailer (and Midge's parade of unfairly fashionable outfits), it could do just that.
Here is the official synopsis for The Marvelous Mrs. Maisel:
In 1958 New York, Midge Maisel's life is on track- husband, kids, and elegant Yom Kippur dinners in their Upper West Side apartment. But when her life takes a surprise turn, she has to quickly decide what else she's good at – and going from housewife to stand-up comic is a wild choice to everyone but her. The Marvelous Mrs. Maisel is written and directed by Amy Sherman-Palladino (Gilmore Girls).
The Marvelous Mrs. Maisel Season 2 will debut on Amazon Prime later this year.