Sorry, Cool Kids: 'Venom' May Be PG-13 After All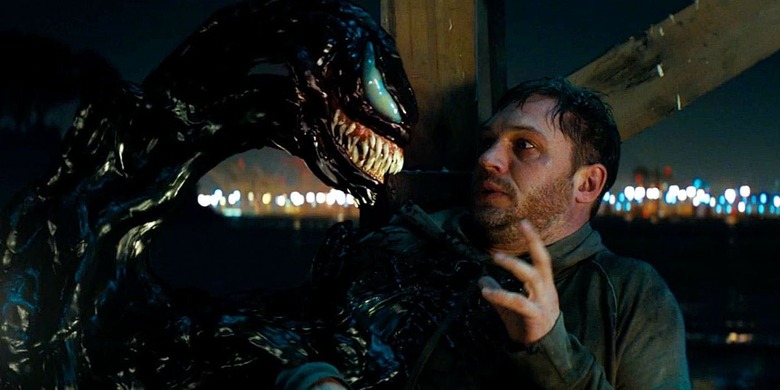 When Sony
that it was developing a Venom movie, the descriptor "R-rated" immediately followed. Venom was touted as Sony's first R-rated Marvel film, an intriguing draw for the infamous antihero character. Without the kid-friendly Spider-Man dragging Venom down, the comic book movie was to be Sony's grasp at being taken seriously. And coming off the heels of the success of Fox's Logan, it seemed like a perfectly reasonable goal.
But a new report suggests that the highly-promoted Venom rating may not be set in stone. Concerns from high up in Sony may push the Venom rating down to PG-13. And like that, the Venom R-rating may disappear, like a turd in the wind.
reports that, despite early efforts to push Venom as an edgy, violent foil to the kid-friendly neighborhood Spider-Man, Sony's brain trust has begun to express concerns about that illustrious R-rating.
"It's unlikely that Venom will be the first R-rated Sony Marvel movie," Variety writes, adding:
Trailers for the film, which recently underwent reshoots in Los Angeles after shooting in Georgia, emphasized the horror movie elements, showing the title character as he's about to bite a person's head off. But some members of Sony's brain trust believe that the film should push the very limits of PG-13 without crossing over into a higher rating.
The scene of Venom biting off a character's head was shown as recently as this summer's
 So these new concerns must have been raised pretty recently, which means that Sony and director Ruben Fleischer must have been scrambling to reshoot the film in the past couple months. With only two months left before the film's release, this suggests the filmmakers are under the wire to accommodate these executives.
So why did the executives have a change of heart so close to the film's release? Variety suggests that, despite early statements that Venom and the cinematic universe it launches will be without Spider-Man, the studio wants to leave the door open for the web-slinger to appear in future movies. As its most popular property, any title containing Spider-Man will have to carry a family-friendly PG-13 rating, which affects Venom and its possible sequels. Variety also notes that this could open the door for appearances by other members of the Marvel Cinematic Universe, where Tom Holland's Spider-Man currently resides (under loan to Marvel Studios). It's a lot riding on a simple rating, but it does suggest intriguing future plans for Venom, and possibly an early death knell for Sony's Spider-Man-less cinematic universe.
Ruben Fleischer directs Venom, which stars, Tom Hardy, Michelle Williams, Jenny Slate, Riz Ahmed, and Woody Harrelson,
Venom opens in theaters on October 5, 2018.
One of Marvel's most enigmatic, complex and badass characters comes to the big screen, starring Academy Award® nominated actor Tom Hardy as the lethal protector Venom.