Sony's 'Silver And Black' Is Two Separate Movies Now, Marvel Character Jackpot May Also Get Her Own Movie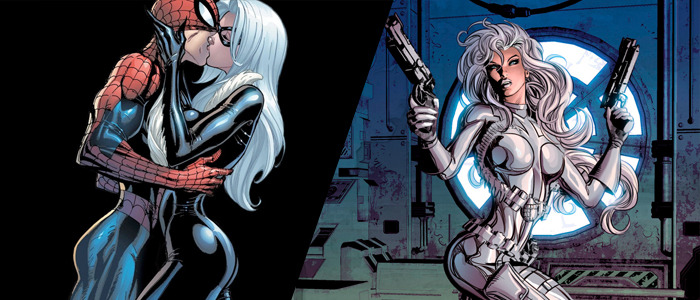 What is happening with Sony's Spider-Man adjacent Marvel movie universe? Tom Hardy's Venom looks like a disaster, and the studio's planned female-fronted Silver and Black movie, which would have followed the comic book characters of Black Cat and Silver Sable, was taken off the release calendar earlier this summer.
Now a new report says that instead of a team-up project, the latter film is being split into two entirely separate movies, and they may be looking for new directors. Not only that, but Sony is also developing a standalone movie about the Marvel hero Jackpot. Learn more about all of this below.
The Future of Silver & Black
Variety says that the Silver and Black movie has been scrapped and will instead be broken off into two distinct projects. One will follow Silver Sable, a mercenary who hunts down war criminals, while the other centers on Black Cat, AKA Felicia Hardy, a cat burglar and sometimes love-interest of Peter Parker/Spider-Man. The outlet says that of those two, Black Cat is "likely" to go into production first.
"We believe Black Cat is enough of her own character with a great backstory and a canon of material to draw from to justify her own film," said Columbia Pictures president Sanford Panitch.
But what about filmmaker Gina Prince-Bythewood, who was set to write and direct Silver and Black? Variety says that a final decision hasn't been made yet, but Prince-Bythewood is probably going to end up leaving the director's chair but staying on board both new films as a producer. Sony is reportedly "adamant" about finding a female director for both projects, so I'm sure we'll be hearing more about this very soon.
More Marvel Cinematic Universe Connections?
Elsewhere in the article, Variety reveals that internally, Sony is referring to their Spider-Man adjacent movies as "Sony's Universe of Marvel Characters," or SUMC. (That nickname could use some work, Sony.) Unsurprisingly, Sony "is open to having other characters from its Spider-Man films pop up in Marvel movies" that are set in Disney's Marvel Cinematic Universe, with the presumed hope that they could also secure a few Avengers-level characters to cameo in some of its own films. You don't say...
Jokes aside, things could start to get complicated pretty quickly here in terms of who is a part of who's shared universe. Right now, there's a clear line in the sand between a film like Spider-Man: Homecoming (a Marvel Studios/Sony co-production distributed by Sony) and Venom (Sony making its own movie about of the 900 Marvel characters for which it holds licensing rights). But as soon as any cross-contamination happens, that opens up a whole host of questions that could stretch the fabric of the reality in these cinematic universes. And that's not even factoring in Disney's acquisition of Fox, which means the X-Men are going to become elements in this equation, too.
More Projects in Sony's Universe of Marvel Characters
We already knew that Sony was planning movies based on Kraven the Hunter (written by Richard Wenk), Nightwatch (possibly directed by Spike Lee), a Morbius movie with Jared Leto playing the vampire character, and a movie based on Silk, the Korean-American superhero who's basically the equivalent of a female Spider-Man. But Variety now reports that the studio is also developing a movie based on Jackpot, a superhero mantle taken up by two separate women; the first Jackpot, Sara Ehret, had superhuman strength, while the second, Alana Jobson (who buys the rights to the name and costume from Sara), uses Mutant Growth Hormone to give herself superpowers.
Last year, we heard rumors that Silver & Black might launch an all-female superhero movie from Sony, and Jackpot was said to be one of the team members. It seems like that particular idea has been scrapped (if it ever existed at all), but Sony appears to be working hard to bring a bunch of female characters to the screen one way or another. Can I appreciate that aspect of all this while still finding the whole separate cinematic universe thing very strange? Yes. Yes, I can.