'Slaughterhouse Rulez' Trailer: Simon Pegg And Nick Frost Reunite For A New Horror Comedy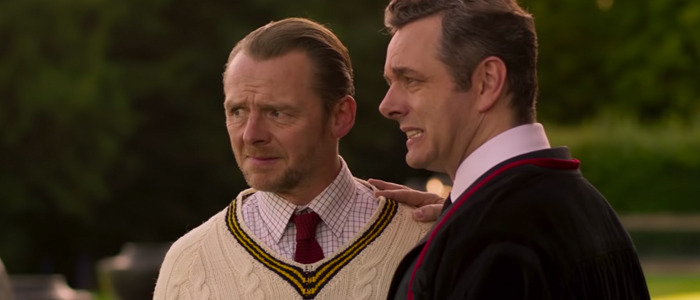 Simon Pegg and Nick Frost have been collaborating for decades, from the British TV series Spaced to director Edgar Wright's Cornetto Trilogy and the Greg Mottola alien comedy Paul. But now the beloved duo have formed Stolen Picture, and they're both co-starring in the new production company's debut film called Slaughterhouse Rulez. It's a cheesy-looking horror comedy that sort of looks like what might happen if Harry Potter stepped into the world of Attack the Block. But lower your expectations, because that combination suggests a level of quality that is sadly lacking in this new trailer.
Slaughterhouse Rulez Trailer
That's a pretty solid cast, right? There's the excellent Michael Sheen (Masters of Sex) as an over-the-top headmaster, looking like he's having a total blast in a movie that's well below his level. Asa Butterfield (Ender's Game) stars as the student protagonist, taking in all of this supernatural craziness with wide-eyed wonder. Finn Cole (Animal Kingdom) and Hermione Corfield (Pride and Prejudice and Zombies) round out the supporting cast, but it's clear that seeing Pegg and Frost share the screen again is going to be the big selling point for this one.
Crispian Mills (A Fantastic Fear of Everything) wrote the script with Henry Fitzherbert (Born a King), and Mills is directing.
In an interview with Digital Trends earlier this year, Pegg spoke a little about what this movie is really about:
"It's about a private school in the U.K. which sells off parts of its land to a fracking company, and the fracking company then unleashes a subterranean monster that terrorizes the school. It's a big metaphor for the U.K. privatizing things, and it's mixed up with some ridiculous, sloppy horror. So it's right up our street."
Here's the movie's official synopsis:
Welcome to Slaughterhouse, an elite boarding school where boys and girls are groomed for power and greatness...and they're about to meet their match. This ancient and ordered world is about to be shaken to its foundations – literally – when a controversial frack site on prized school woodland causes seismic tremors, a mysterious sinkhole, and an unspeakable horror to be unleashed. Soon a new pecking order will be established as the pupils and teachers alike become locked in a bloody battle for survival...
Slaughterhouse Rulez arrives in UK theaters on October 31, 2018. No release dates have been set for the United States yet.