Ben Schwartz Will Voice 'Sonic The Hedgehog', But Jim Carrey's Dr. Robotnik Will Be Live-Action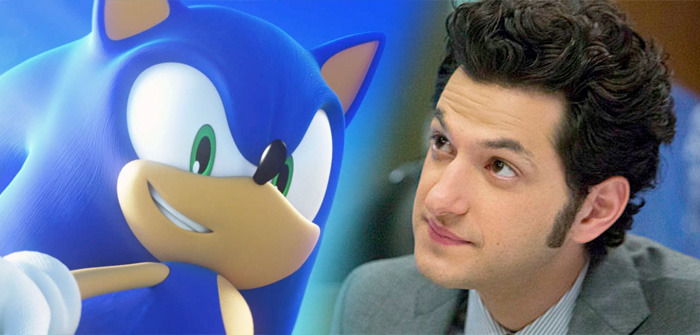 Sonic the Hedgehog was a giant hit after debuting on the SEGA Genesis in 1991. Since then, Sonic has spawned endless video games, cartoons, and even the longest running comic book based on a video game. And now he's getting his own movie, and the actor who will voice the speedy, blue hero has been revealed.
House of Lies series regular and Parks and Recreation guest star Ben Schwartz has landed the voice role of Sonic the Hedgehog, making him the biggest star to voice the character since Family Matters star Jaleel White had the honor on the animated series The Adventures of Sonic the Hedgehog in 1993. While Sonic will be created using computer animation, this is a live-action hybrid, and one character from the Sonic the Hedgehog franchise will not be given the digital treatment.
First of all, here's Ben Schwartz's excited reaction to the announcement of his casting as Sonic the Hedgehog:
I. LOVE. 90S. BLUE. ICONIC. CHARACTERS. I am beyond excited about this movie. It's gonna be amazing. I have been training by running, wagging my finger and impatiently tapping my foot. GOTTA GO FAST! https://t.co/SOYqgnf3ym

— Ben Schwartz (@rejectedjokes) August 9, 2018
You might be wondering why Ben Schwartz mentions his love for blue, iconic characters when confirming Variety's story, and that's because he's also voicing Leonardo on the upcoming Nickelodeon animated series Rise of the Teenage Mutant Ninja Turtles (which we learned a lot more about at San Diego Comic-Con last month). On top of that, Schwartz also provides the voice of the blue clad Dewey Duck on Disney XD's revamp of DuckTales. That's quite the collection of blue cartoon characters Schwartz has. If he can put on a convincing Southern drawl, maybe he'll voice Huckleberry Hound for Hanna-Barbera.
Schwartz is certainly an in-demand voice actor now, and perhaps not coincidentally, this facet of his career really took off after the actor lent his voice to Star Wars: The Force Awakens. Schwartz, who has been a friend of J.J. Abrams for awhile now, helped bring BB-8 to life by writing real dialogue for the ball droid and performing lines that would later be used to inspired the beeps and other sounds used as the droid's manner of speaking in the movie. You can find out more about that over here.
Jim Carrey's Dr. Robotnik Will Be Live-Action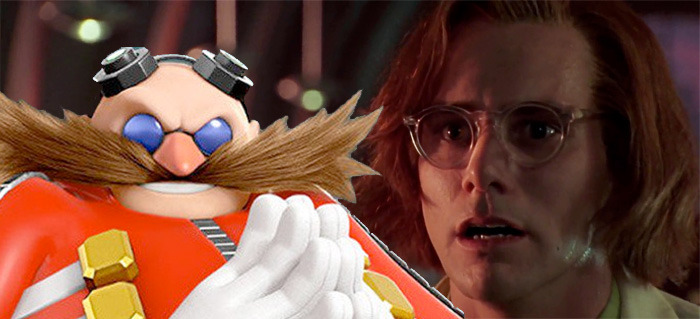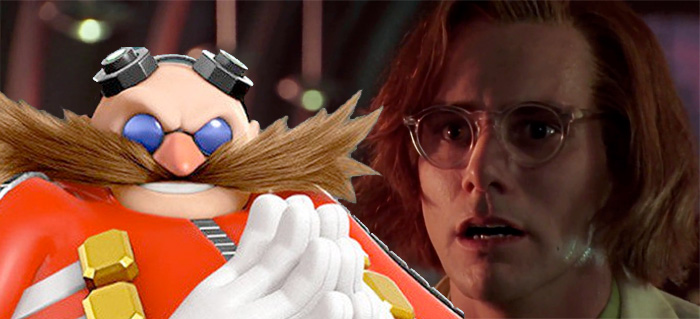 While Ben Schwartz will be lending his voice to a character that will be created entirely in post-production, Jim Carrey will be doing live-action work for his villainous role in the movie.
Back in July we learned the actor would be playing Sonic's arch nemesis Dr. Eggman, aka Dr. Robotnik, and while appearing at a Television Critics Association press tour panel for his Showtime series Kidding (which looks absolutely fantastic) he was asked about his role in Sonic the Hedgehog, to which Carrey confirmed his role would be live-action.
Considering the unique look of Robotnik, as you can see above, people have been curious how they're going to pull off this character in the movie. When asked that very question, Carrey merely said, "Magic! Mixed with desperation." So perhaps we'll be getting Carrey under a lot of prosthetic make-up as he's done before in How the Grinch Stole Christmas and Lemony Snicket's A Series of Unfortunate Events.
Production on Sonic the Hedgehog is underway up in Vancouver, Canada with James Marsden on set as a police officer who gets caught up with Sonic in some way, and Tika Sumpter also having some kind of human role in the movie as well. Hopefully we'll be hearing more about this perplexing movie as production continues.
Sonic the Hedgehog will be directed by first-time director Jeff Fowler, working from a script that has been worked on by Patrick Casey, Josh Miller and Oren Uziel. Visual effects master and Deadpool director Tim Miller is on board as an executive producer and Neal H. Moritz (the Fast and Furious franchise) is producing too. The film is currently scheduled to hit theaters on November 15, 2019, so stay tuned for more.