'The Meg' Opening Box Office Is On Track To Sink, Not Swim, With $20 Million Debut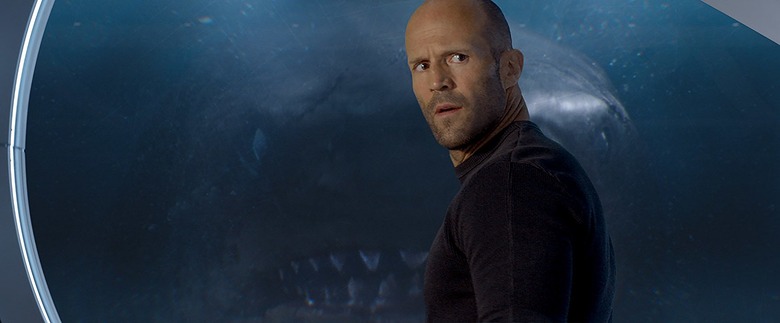 We're going to need a bigger box office estimate. Jon Turteltaub's big-budget sci-fi horror movie that can essentially be boiled down to "Jason Statham versus a giant shark" has some giant problems of its own: lukewarm box office tracking numbers.
The Meg is tracking to open to roughly $20 million domestically — which barely takes a bite out of the film's $130 million mega-budget.
According to The Hollywood Reporter, The Meg is on track to open to between $20 million and $22 million in U.S. theaters. While this is a respectable number for a mid-budget movie, The Meg's budget is much like its titular shark: big. So big that its tepid opening numbers may bode doom for the monster flick, unless global box office numbers can dive in to save it.
The Meg has been long in the making, with the rights to the film passed around Hollywood since 1997. But things sped up when Warner Bros. acquired the rights in 2015 and initially tapped Eli Roth to direct, with National Treasure's Jon Turteltaub eventually stepping on board to helm the film. Statham and the rest of the cast joined in late 2016, and it was full speed ahead.The Meg is a unique joint U.S.-China production, with China's Gravity putting up a significant portion of the film's budget. But some sources say the film may have cost as much as $150 million to produce, which makes the middling opening estimates all the more worrisome. However, producers expect the film to do well abroad — especially with international stars like Li Bingbing and Winston Chao heading the cast, and Gravity handling the Chinese distribution rights. So it may be up to China whether The Meg will sink or swim.
I know that the film's far-fetched premise and its even more ridiculous tone (It's Jason Statham versus a shark! What's not to love!) has Twitter all abuzz with excitement, but for the casual moviegoing audience, it may be another question. Perhaps people are expecting a more serious shark horror flick akin to Jaws rather than a B-horror movie closer in tone to Sharknado. We'll have to see what they have to say when The Meg hits theaters on August 10, 2018.
A massive creature attacks a deep-sea submersible, leaving it disabled and trapping the crew at the bottom of the Pacific Ocean. With time running out, rescue diver Jonas Taylor must save the crew and the ocean itself from an unimaginable threat — a 75-foot-long prehistoric shark known as the Megalodon.