Terry Crews Says Bedlam Could Return In 'Deadpool 3,' Apologizes For Trolling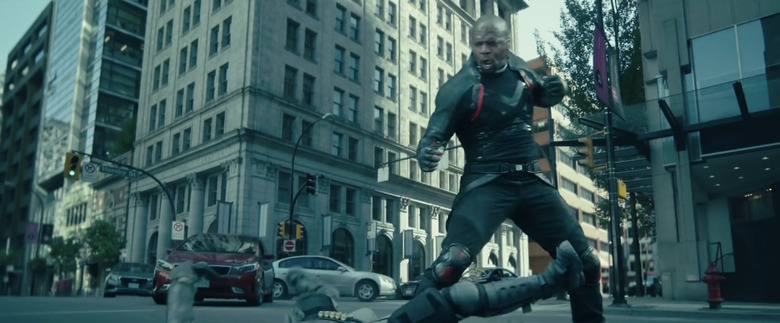 Terry Crews was on a Television Critics Association panel for Brooklyn Nine-Nine, which was rescued by NBC after being cancelled by Fox. He's also had a big summer with roles in the indie darling Sorry to Bother You and the mega Blockbuster Deadpool 2.
Both movie roles are sort of cameos. In Sorry, he plays the uncle in whose garage Cassius Green (Lakeith Stanfield) is living. In Deadpool 2, Crews played Bedlam, a member of the X-Force that Deadpool (Ryan Reynolds) recruits. Spoilers for Deadpool 2 follow, but we found out whether Bedlam can return and why Crews feels a little guilty for his role in the film's deceptive (but hilarious) marketing.
Bedlam Could Return
The big joke of Deadpool 2's X-Force scene is that every X-Force member dies except for Domino (Zazie Beetz). However, the Deadpool movies may get the best of both worlds because they got to include that joke and can still have all the X-Force members for a sequel. The end credits of Deadpool 2 features scenes of Deadpool using Cable's time machine to reset the timeline, including saving his X-Force.
Either way, Crews says Bedlam could still return.
"Actually if you look at the movie, I was on life support," Crews said. "They were trying to revive me so you didn't see me get cut up or head cut off. There's always something. I would love to come back for Deadpool 3."
Crews suggests Deadpool 3 is the most likely follow-up for Bedlam. There is an X-Force movie in development, but we probably won't see him there.
Terry Crews is Sorry for Trolling You
It's kind of remarkable that Deadpool 2 could pull off a joke like that. These are characters comic book readers know: Bedlam, Vanisher, Shatterstar and Zeitgeist. In addition to Crews, they even got recognizable names to play them, including Bill Skarsgard and Brad Pitt. Okay, Pitt was kind of a joke too. The biggest star in the world was invisible.
Despite his limited screen time, Crews was in the Deadpool 2 trailers, got a character poster, and even did press for the film.
"It was a troll from the beginning and it was horrible," Crews said. "I felt so bad, but it was for a good cause, you know what I mean? It really was the payoff that the movie needed."
Anyway, all will be forgiven if Bedlam returns.