'Network' Brings Bryan Cranston Back To Broadway, But This Time He's Mad As Hell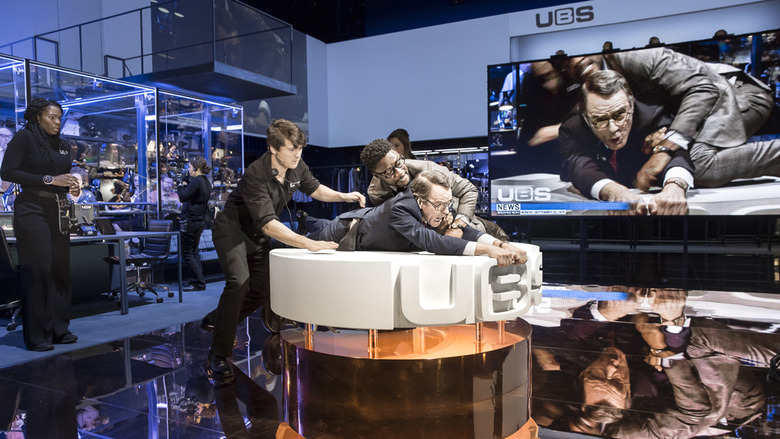 Four years ago, Bryan Cranston proved himself to be a major talent not just on the small screen but on the stage, winning a Tony for his performance as Lyndon B. Johnson in the Broadway production of All the Way. Now he's coming back to the Great White Way, but this time, he's mad as hell.
Cranston will be reprising his role as Howard Beale in the Broadway staging of Network, which makes its way from London to the States this fall. Could this be another notch in Cranston's award belt? Well, seeing as he won an Olivier Award earlier this year in the London production, you betcha.
The National Theatre announced on Wednesday that the Breaking Bad star is returning to the New York stage this fall in his Olivier Award-winning role as the unhinged TV anchor Howard Beale in the stage adaptation of Network, according to Entertainment Weekly.
Cranston is the only cast member announced to reprise his role from the London production so far. Additional casting will be announced shortly.
The stage adaptation by Lee Hall (Billy Elliot) adapted the eerily prescient 1976 film starring Peter Finch and Faye Dunaway, transforming the satirical film into a unique immersive experience. Packing the stage with video projection devices and audio visual technology, Hall's Network turns the audience into active participants in Howard Beale's on-air meltdown, and accomplices to his rise as a TV ratings messiah.
The New York production will maintain much of those distinctive creative twists, with Jan Versweyveld designing the sets and lighting, Tal Yarden (Lazarus) on board for feature video design, An D'Huys (A View From the Bridge) designing costumes, and music and sound by Olivier Award nominee Eric Sleichim (The Damned). The production's producers said in a statement:
"We are excited as hell to bring Ivo van Hove's brilliantly innovative and electrifying production of Network to Broadway this fall. The incomparable Bryan Cranston brings Howard Beale to brilliant life and we are so thrilled for American audiences to have the opportunity to experience his masterful performance and this spectacular new play."
Cranston last appeared on Broadway in 2014's All the Way, which won Tony Awards for Best Play and for his performance as President Lyndon B. Johnson. He later went on to reprise the role for the 2016 HBO film of the same name. This repeat cycle makes me wonder: could Cranston star in a film remake of Network? But an even bigger question: could a modern-day Network truly even work as a feature film when reality has transcended the issues that it satirizes? We don't have answers to those questions today, but it would be spectacular to see Cranston in a role that could get him closer to that illustrious EGOT.
Network will begin performances on November 10, 2018 at Broadway's Cort Theatre ahead of its official opening on December 6, 2018. The limited run is expected to go for 18 weeks.