'The After Party' Trailer: It's A Rapper Cameo Party In Netflix's New Comedy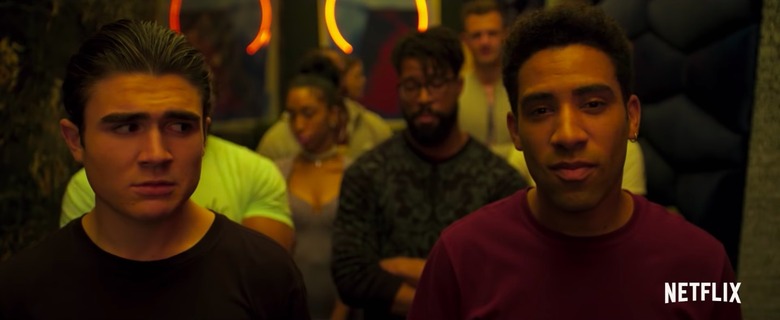 The After Party trailer is a who's who of rappers who would realistically throw a pretty good real party. Not the least of which is Kyle, whose breakout single "iSpy" featuring Lil Yachty dominated air waves last year, and who stars in the Netflix comedy as an aspiring rapper trying to crash the wildest after party in New York City.
The After Party Trailer
Written and directed by Ian Edelman (How to Make it in America), The After Party follows Kyle's character Owen as he accidentally becomes a viral sensation for all the wrong reasons. After a serendipitous meeting with Wiz Khalifa (playing himself), Owen gets the chance to try Wiz's special weed and perform in front of the rap star — but ends up having a bad reaction to the drug, vomiting all over Wiz and having a seizure on stage. Naturally, people are less concerned about Owen's well-being than they are about filming the humiliating moment, resulting in Owen becoming the viral #Seezjahboy overnight.
His rap career seemingly over, Owen's best friend and manager Jeff (Harrison Holzer) tries for a last-ditch attempt to salvage Owen's career. The two decide to crash a party and get Owen signed. Of course, there's a deadline: Owen has to get signed before the night is over, for some reason.
The After Party features cameos from French Montana, Pusha-T, Jadakiss, and Desiigner, as well as an appearance by the viral "Fade" video star Teyana Taylor. Shelley Hennig, who seems to be making a habit of appearing in Netflix original films, also stars.
Despite the glossy, expensive cameos, The After Party seems to be a classically dumb Netflix comedy along the lines of its low-brow offerings like When We First Met or Game Over! Atlanta, this movie is not. But if you are in the mood to see Kyle puke all over Wiz Khalifa, be my guest.
Here is the official synopsis for The After Party:
When an aspiring rapper goes viral for all the wrong reasons, he thinks his career is over. But when his best friend gets them into a wild NYC after party, he gets one more chance to make the impossible happen.
The After Party drops on Netflix on August 24, 2018.