A TV Series Sequel To 'The Player' Is In Development [TCA 2018 Exclusive]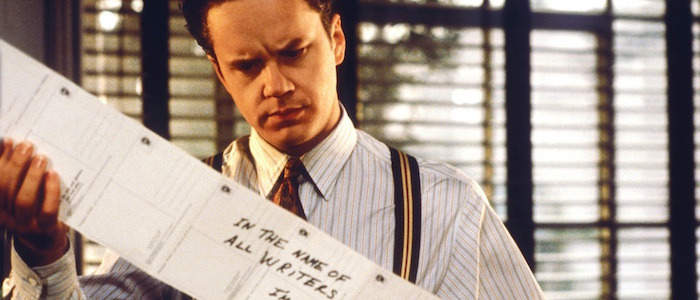 Robert Altman's 1992 film The Player skewered Hollywood. Based on Michael Tolkin's book, the story followed Griffin Mill (Tim Robbins), a producer who literally got away with murder. A-list stars lined up to play themselves in cameos.
/Film interviewed author (and writer of the screenplay adaptation) Tolkin for his new Showtime miniseries Escape at Dannemora. We'll bring you the full interview when the show premieres in November, but Tolkin told us about a follow-up to The Player he's developing.
Return of The Player
Tolkin wrote a sequel to the novel, The Return of the Player, which was published in 2006. Now he says he is developing an adaptation, but not as a film.
"We're actually developing a series based on it for Warners Television," Tolkin said. "That's in the early stages."
For those who have not read Tolkin's second book, it turns out that getting away with murder was not the end of Griffin's problems. Maybe his legal trouble, but it turns out making hit movies is even more unpredictable.
"It's Griffin 15 years later and he's down to his last six million dollars and he doesn't know what he's going to do," Tolkin said. "He's in a panic about his future."
A TV series sounds like an ideal way to return to the world of The Player. Altman is no longer with us, so a movie sequel could never quite be the same as Altman's unique approach. Television has now gotten to the point where it can do the kind of grown-up drama week-to-week that used to only be possible in movies in 1992.
Could Tim Robbins Return?
In the '90s, a TV series could not hope to get a movie star like Tim Robbins. In fact, they attempted a Player TV series in 1997. Patrick Dempsey played Griffin Mill in that.
Today, movie stars flock to television for quality material. Even Robbins himself has been on TV shows like HBO's The Brink, Here and Now and IFC's The Spoils of Babylon. If he played Griffin Mill in the series, it would truly be a sequel to Altman's The Player.
"We're not at the casting stage yet," Tolkin said. "It would be wonderful to have him."
Tackling the New Hollywood
The Player revealed Hollywood's language for packaging movies. It was always X meets Y. I've certainly adapted that paradigm in a lot of my criticism. Tolkin says that's not really how Hollywood develops movies anymore, so perhaps The Return of The Player could tackle the new paradigm.
"That's a really interesting point," Tolkin said. "I don't think you'd say it's Aladdin meets Infinity War. I think the movies now are so strictly genre oriented that you wouldn't think in terms of a title. You'd think more in terms of a mashup of genre."
In the '90s, Hollywood was trying to find a way to sell its high concept movies as something familiar to audiences. Now, they just make the franchises people already like in the first place.
"Exactly, that's why I'm in TV now," Tolkin agreed.
Look for our full interview with Michael Tolkin in November.