'Jumanji: Welcome To The Jungle' Director Jake Kasdan On How He'll Change The Game And Reference The Original Movie In The Sequel [Exclusive]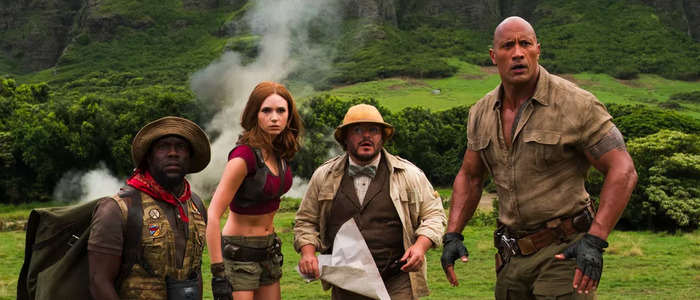 Director Jake Kasdan was at the ABC party for the Television Critics Association in support of Speechless and Fresh Off the Boat, shows he executive produces, but does not actively work on. He's happy to show up whenever they ask, and may direct episodes this season, but Scott Silveri and Nahnatchka Khan respectively run those shows.
So there was really nothing left to talk to Jake Kasdan about except the sequel to his hit Jumanji: Welcome to the Jungle, which he's currently writing. We talked about how the sequel may change the game, connect to previous Jumanji movies, and more.
Who's Playing the Game This Time?
Dwayne Johnson, Jack Black, Kevin Hart and Karen Gillan are slated to return for a Jumanji sequel. You'll remember that their characters were the avatars Smolder Bravestone, Sheldon Oberon, Franklin Finbar and Ruby Roundhouse. The kids playing Jumanji became them in the film.
So, will the same kids play a new game of Jumanji? The premise allows the four stars to represent any new characters.
"We're just figuring all of that out now," Kasdan said.
I don't see why those kids from Welcome to the Jungle would ever play Jumanji again, but if they did, wouldn't it be cool if they switched characters? That way Johnson, Black, Hart and Gillan could play each other's personalities from the previous movie. Kasdan indicated I'm onto something here.
"It's a good idea," Kasdan said.
I'm not surprised the writer/director of a major franchise is not going to tell me what the sequel is about a year and a half ahead of time, but I take it to mean he's considering the creative possibilities of the world of Jumanji, much like how the board game transformed into a video game for the modern adaptation. With the sequel coming two years later, Kasdan confirmed it would likely remain a video game.
"I believe it'll be sort of a continuation of that idea, yeah," Kasdan said.
Jumanji Canon
It was a pleasant surprise when Jumanji: Welcome to the Jungle revealed itself to be not a remake but a sequel to the 1995 Robin Williams movie. The board game his character disposed of re-emerges in a 1996 prologue, and Nick Jonas's character reveals he's been living in Alan Parrish's jungle fort.
"Our hope is to keep a long continuity through the whole thing, even though the story that we're telling in the second movie, the movie that we're working on right now is much more connected to the first movie that I made a year ago than it is to the original," Kasdan said. "We love the idea of keeping all of this together and connected in some way or another."
There was another adaptation of a Chris Van Allsburg children's book about a game that transported its players to another world. Zathura was essentially Jumanji in space. Though it was Jon Favreau's follow-up to Elf, Zathura was not a hit, so references to it might be lost on most audiences. Kasdan confirmed his movies stick to Jumanji.
"I love Zathura but we haven't really treated it as being quite related, directly related," Kasdan said.
Keeping the Timeline Straight
In each Jumanji, when the kids win the game, the world goes back to the way it was before they played. In the first movie, Alan Parrish gets to go back to his life and grow up to be Robin Williams in the real world. In Welcome to the Jungle, the four main characters return to the present but Alex Vreeke (Jonas) gets to go back to 1996, and grows up to be Colin Hanks.
That means when the next Jumanji starts, everything reset in the previous two have to be honored. Yet everything in the Jumanji jungle world can remain, as it appears Alan Parrish's 26 years in the jungle still happened, even though he won the game in 1995.
"The original has this very sort of complex narrative shape in terms of timeline," Kasdan said. "When we were making my first movie, that took a bit of wrapping and unwrapping to figure out, but I've always loved that idea which is that by winning, you return to where you went in. So we kept that idea from the original movie and used it in a different way in our movie."
Kasdan is still aiming for a Christmas 2019 release, though he'll have to finish the script and assess it then.
"We're going for it," Kasdan said. "We'll have a better idea in a few months."